Introduction
Dwayne Douglas Johnson, famously known by his ring name "The Rock," stands as an extraordinary figure in the realm of entertainment. Born on May 2, 1972, Johnson has left an indelible mark as an American actor, film producer, and retired professional wrestler. His journey from the wrestling ring to the silver screen is a testament to his versatility and prowess. Let's delve into the remarkable life and achievements of this iconic personality.
The Wrestling Dynamo
A Pillar of Wrestling Greatness
In the annals of professional wrestling history, Dwayne Johnson's name shines bright. Acknowledged as one of the most exceptional professional wrestlers of all time, he played a pivotal role in the meteoric rise of the World Wrestling Federation (WWF, now WWE) during the Attitude Era – an epoch marked by an unprecedented surge in popularity during the late 1990s and early 2000s.
The Transition to Stardom
While Dwayne Johnson gained fame and accolades in the wrestling domain, his ambitions extended beyond the ring. After dedicating eight years to the WWF, he ventured into the realm of acting. This marked the beginning of a new chapter in his illustrious journey.
A Trailblazing Acting Career
From the Ring to the Silver Screen
Dwayne Johnson seamlessly transitioned from the arena to the cinematic world. His debut film appearance in "The Mummy Returns" (2001) was just the beginning of a series of remarkable performances. Notably, he claimed his first leading role in the action fantasy film "The Scorpion King" (2002).
Box Office Triumphs
Johnson's acting prowess is not confined to a single genre. He has captivated audiences with a diverse array of roles. From family-friendly films like "The Game Plan," "Race to Witch Mountain," and "Tooth Fairy" to action-packed blockbusters like "Jumanji: Welcome to the Jungle," "Skyscraper," and "San Andreas," he has showcased his versatility and magnetism.
Franchise Powerhouse
Dwayne Johnson's charisma has proven instrumental in propelling franchises to unparalleled heights. His portrayal of Luke Hobbs in the "Fast & Furious" series, which commenced with "Fast Five" (2011), significantly contributed to the franchise's astronomical success.
A Touch of Magic
In addition to his live-action endeavors, Johnson lent his voice to the character Maui in Disney's animated hit "Moana" (2016), demonstrating his ability to captivate audiences through various mediums.
Beyond Entertainment: Entrepreneurship and Influence
A Multifaceted Entrepreneur
Johnson's influence extends beyond the realm of entertainment. He co-founded the entertainment production company Seven Bucks Productions in 2012, showcasing his entrepreneurial acumen. Moreover, his involvement as a co-owner of the XFL, a professional American football league, underscores his diverse business interests.
An Inspiring Figure
Recognized by Time as one of the world's most influential individuals in 2016 and 2019, Dwayne Johnson's impact transcends the entertainment spectrum. His journey from humble beginnings to global prominence serves as a source of inspiration for countless individuals around the world.
Early Life of Dwayne "The Rock" Johnson: Nurturing the Path to Greatness
A Tapestry of Heritage
Dwayne Johnson, born on May 2, 1972, in Hayward, California, is the offspring of Ata Johnson and Rocky Johnson. His diverse lineage encompasses Black Nova Scotian and Irish ancestry from his father's side, while his mother's heritage is Samoan. This rich blend of cultures and traditions played a pivotal role in shaping Johnson's identity.
Wrestling Roots and Athletic Pursuits
A Wrestling Legacy
Growing up, Johnson found himself immersed in the world of wrestling. His father, Rocky Johnson, and Tony Atlas achieved a historic feat as the first black tag team champions in WWE history in 1983. With his maternal grandfather, Peter Maivia, also a celebrated wrestler, the wrestling legacy runs deep in Johnson's family.
A Journey Through Education
Johnson's early education took him across continents. After a brief period spent in Grey Lynn, Auckland, New Zealand, where he embraced his passion for rugby, he returned to the U.S. for his schooling. From Montclaire Elementary School in Charlotte, North Carolina, to schools in Hamden, Connecticut, and Nashville, Johnson's academic journey set the stage for his future endeavors.
Overcoming Challenges and Personal Transformation
Navigating Challenges
Despite his future stardom, Johnson's early years were not without challenges. In his youth, he faced legal troubles and was caught in a cycle of conflict and petty crimes. These struggles painted a challenging picture, but they were only a part of his story.
Athletics as a Catalyst
Amidst the turmoil, athletics emerged as a transformative force in Johnson's life. At Freedom High School in the Lehigh Valley, he found refuge in football, track and field, and wrestling. Coach Jody Cwik's insight recognized Johnson's potential, ultimately providing him a platform to channel his energy positively.
A Glimpse of Transformation
Through his participation in sports, Johnson's perspective underwent a significant transformation. High school football ignited his passion for setting and achieving goals. His dedication and commitment on the field sowed the seeds of discipline and determination that would later define his professional journey.
Paving the Way for Excellence
A Rising Star
Johnson's excellence in sports did not go unnoticed. His exceptional performance on the football field, particularly in an elite high school athletic division, garnered attention from NCAA Division I collegiate programs. His name resonated among the top high school defensive tackles in the nation, setting the stage for the next chapter of his life.
The Road to University of Miami
With a full athletic scholarship offer in hand, Johnson chose to continue his academic and athletic pursuits at the University of Miami. Renowned for its formidable football program, the university provided the ideal environment for Johnson to refine his skills and contribute to the legacy of excellence.
Dwayne Johnson's College Journey: Paving the Path to Wrestling Stardom
The College Football Era
Dwayne Johnson's athletic prowess carried him from high school to the University of Miami, where he maintained his position as a defensive tackle. As a member of the Miami Hurricanes football team, Johnson's freshman year in 1991 culminated in a triumphant victory in the national championship. This early taste of success set the tone for his college career.
Navigating Challenges
Despite his dedication, Johnson found himself in the shadows of elite players, including the legendary Warren Sapp. Playing in backup roles and competing in a fiercely competitive environment, Johnson demonstrated his resilience and commitment to the sport.
Contributions on the Field
Throughout his time at the University of Miami, Johnson participated in 39 games and showcased his prowess on the field. With 4.25 sacks and 77 tackles to his name, he left an indelible mark as a dedicated team player and a force to be reckoned with.
Embracing Education and Leadership
Academic Pursuits
Beyond the football field, Johnson pursued academic excellence. In 1995, he graduated with a Bachelor of General Studies and a dual major in criminology and physiology. Johnson's commitment extended beyond sports, reflecting his dedication to personal growth and education.
A Beacon of Positivity
Johnson's influence transcended the campus boundaries. As one of the university's most prolific student speakers, he engaged with the Miami-area community, sharing his personal struggles and delivering messages of inspiration. His efforts to encourage others to persevere resonated deeply.
Transition to the Canadian Football League
Embracing New Horizons
Following his graduation, Johnson embarked on a new adventure by signing with the Calgary Stampeders in the Canadian Football League. Transitioning from defensive tackle to linebacker, he embraced the opportunity to further develop his skills and contribute to a different facet of the sport.
A Glimpse of Challenges
While the journey in the Canadian Football League presented its own set of challenges, Johnson's time with the Calgary Stampeders was short-lived. Cut from the team's roster after two months, Johnson's career trajectory was about to take an unexpected turn.
The Birth of a Wrestling Legend
A New Path Unfolds
Dwayne Johnson's destiny took a remarkable twist as he ventured into the world of professional wrestling in 1996. Guided by veteran wrestler Pat Patterson, Johnson began his journey with the World Wrestling Federation (WWF), marking the inception of his transformation into "The Rock."
Shaping the Identity
Under the tutelage of Pat Patterson and the influence of his family's wrestling legacy, Johnson adopted the ring name "Rocky Maivia." This fusion of his father and grandfather's ring names symbolized his connection to the sport's lineage.
The Debut and Ascent
Debuting as "Rocky Maivia," Johnson rapidly ascended within the WWF ranks. His clean-cut persona and lineage-driven hype positioned him as a third-generation wrestler, catapulting him into the spotlight. Despite initial fan support, challenges awaited on the horizon.
Embracing the Nation of Domination (1997–1998)
A Heel Turn that Defined a Career
In August 1997, Dwayne Johnson took a bold step, embracing the role of a villain for the first time in his career. Shedding his previous persona, he joined forces with Faarooq, D'Lo Brown, and Kama to form the formidable Nation of Domination stable. This marked a turning point that would reshape his identity.
The Birth of "The Rock"
Renouncing his former name, Johnson rebranded himself as "The Rock," a persona that exuded charisma and arrogance. He embraced the third-person narrative, delivering scathing promos that targeted the audience, fellow performers, and interviewers alike. The Rock's emergence signaled a new era in his wrestling journey.
Feuds and Championships (1997–1998)
Clash with Stone Cold Steve Austin
In a memorable encounter at D-Generation X: In Your House, Stone Cold Steve Austin triumphed over The Rock to retain the Intercontinental Championship. The rivalry continued as Austin was compelled to defend the title in a rematch, which led to an unexpected twist that set the stage for future battles.
Royal Rumble Triumphs and Setbacks
The Rock's path collided with Ken Shamrock's as they clashed for the Intercontinental title at Royal Rumble. While The Rock managed to retain the title, he faced elimination by Austin in the Royal Rumble match itself. WrestleMania XIV witnessed The Rock's determination as he held on to the Intercontinental title.
Ascension within the Nation
Stepping into a leadership role, The Rock overthrew Faarooq to become the head of the Nation of Domination. This power shift ignited a fierce feud between the two, leading to a showdown at Over the Edge: In Your House, where The Rock emerged victorious and the stable was rebranded as "The Nation."
Rising Amid Feuds and Championships (1998–2000)
The Rock vs. Triple H
The Rock's rivalry with Triple H escalated, culminating in a two out of three falls match at Fully Loaded: In Your House. In a controversial outcome, The Rock retained his Intercontinental title. A subsequent ladder match at SummerSlam saw The Rock relinquish the title.
A Shift in Fan Support
The latter half of 1998 marked a significant turning point for The Rock, as fan support surged. He began a new chapter by feuding with fellow Nation members Mark Henry and D'Lo Brown, transforming into a fan-favorite.
WWF Champion and Unforgettable Moments
The pinnacle of The Rock's journey arrived at Survivor Series in 1998, where he emerged victorious in the "Deadly Game" tournament, clinching his first WWF Championship. This triumph was accompanied by a "double turn" as he aligned with the McMahons to lead The Corporation stable.
WrestleMania Victories and Iconic Matches
Rock Bottom: In Your House witnessed a championship rematch between The Rock and Mankind, solidifying The Rock's status as the WWF Champion. Battles against Mankind, Stone Cold Steve Austin, and Ken Shamrock etched The Rock's legacy in stone.
Rock's Reign: Record-Breaking Triumphs (2000–2002)
A Quest for Glory (2000–2001)
Clash with Triple H and Championship Triumphs
As the year 2000 dawned, The Rock's quest for glory intensified. Engaged in a fierce rivalry with Triple H, The Rock emerged victorious, securing his fourth WWF Championship at Backlash. Stone Cold Steve Austin's intervention played a pivotal role in this historic moment.
Iron Man Showdown and Unforeseen Defeat
The Rock's journey continued with a monumental Iron Man match against Triple H at Judgment Day. The contest ended in dramatic fashion, with The Undertaker's interference sealing The Rock's fate. Despite the heart-pounding match, victory slipped through his fingers.
A Fifth Triumph and Unforgettable Bouts
King of the Ring bore witness to another monumental triumph for The Rock. In a six-man tag team match, he pinned Vince McMahon, securing his fifth WWF Championship. The ensuing months witnessed unforgettable title defenses against formidable opponents, Chris Benoit and Kurt Angle.
Setbacks and Triumphs (2001–2002)
WrestleMania Showdown and a Brief Loss
The Rock's journey encountered a setback as he faced Kurt Angle at No Mercy in a gripping contest. This clash resulted in The Rock relinquishing the WWF Championship. However, his resilience and determination remained unwavering.
Showdown with Rikishi and New Beginnings
Survivor Series marked The Rock's encounter with Rikishi, culminating in a victorious outcome. The Rock's path then intertwined with the debut of the New World Order faction, adding new layers to his journey.
Iconic Battles and Departure
WrestleMania X8 witnessed an epic clash between The Rock and "Hollywood" Hulk Hogan, epitomizing an "icon versus icon" showdown. The Rock's triumph solidified his place as a wrestling legend. Following the brand extension, The Rock's legacy was further etched in the draft lottery.
The Resounding Return (2002–2004)
Return and Redemption
The Rock's resurgence was marked by his return to SmackDown! in a battle for the WWE Undisputed Championship. With a triumphant victory, he clinched his seventh WWE Championship. The Rock's dominance remained undiminished.
Battles and Final Farewell
Global Warning showcased The Rock's prowess as he defended his title against Triple H and Brock Lesnar. SummerSlam, however, saw a loss that marked a turning point, with Lesnar seizing the WWE Undisputed Championship.
A Departure and New Beginnings
Amidst fan reactions, The Rock's departure marked a pivotal transition as he ventured into Hollywood. The Rock's journey in the wrestling world came to a momentary close, but his legacy remained indelible.
Rock's Return and Feud with John Cena: 2011–2013
The Electrifying Comeback
Dive into the electrifying chapter of Dwayne "The Rock" Johnson's wrestling journey, as he stages a remarkable return to WWE and ignites a fierce feud with none other than John Cena. Unveil the intense clashes, memorable moments, and the unparalleled charisma that define this era.
A Fiery Feud Ignited
WrestleMania XXVII Host and Cena Confrontation
In a groundbreaking announcement on February 14, 2011, The Rock was unveiled as the host of WrestleMania XXVII, setting the stage for his monumental return to WWE after seven years. What followed was a fiery confrontation with John Cena that ignited a rivalry for the ages.
Live on Raw: The Rock's Verbal Assault
In a memorable Raw appearance, The Rock seized the spotlight, addressing the fans and sparking his feud with John Cena through a captivating promo. This marked the inception of a series of electrifying exchanges, both in person and via satellite.
WrestleMania XXVII: Rewriting the Main Event
At WrestleMania XXVII, The Rock's influence reached new heights. Not content with a backstage role, he made a grand entrance to ringside and altered the course of the main event between Cena and The Miz, leading to an unforgettable No Disqualification match.
Showdown at WrestleMania XXVIII
Iconic Match and Record-Breaking Triumph
The crescendo of The Rock and Cena's feud culminated at WrestleMania XXVIII in a clash of titans. Their battle for supremacy ended with The Rock emerging victorious, securing a monumental victory over Cena in a match that shattered pay-per-view buyrate records.
A Reckoning and Renewed Challenges
After triumphing over Cena, The Rock's praise for his opponent marked a moment of sportsmanship. The Rock, however, vowed to reclaim the WWE Championship, setting the stage for a new chapter in his storied career.
Royal Rumble Return and Championship Pursuit
A Champion's Aspirations
The Rock's journey surged forward as he announced his intent to wrestle for the WWE Championship at the Royal Rumble pay-per-view. His path crossed with reigning champion CM Punk, John Cena, and Daniel Bryan, paving the way for captivating encounters.
Royal Rumble Redemption
At the Royal Rumble, a riveting battle ensued between The Rock and CM Punk. Amidst suspense and drama, The Rock emerged triumphant, capturing his eighth WWE Championship after a monumental match that kept fans on the edge of their seats.
Unwavering Resolve
The Rock's championship reign was marked by unwavering resolve, steadfastly defending his title against all challengers. Notably, his clash against CM Punk at Elimination Chamber showcased his tenacity and strategic prowess.
Final Showdown at WrestleMania 29
Grand Rematch for Championship Glory
WrestleMania 29 saw the epic culmination of The Rock's rivalry with John Cena. This time, the stakes were elevated as the WWE Championship hung in the balance. The Rock and Cena delivered a showdown for the ages, vying for championship glory.
Champion's Fate and Legacy
The grandeur of WrestleMania 29 concluded with a decisive victory for John Cena, ending The Rock's championship reign. This event marked the conclusion of a remarkable chapter in The Rock's WWE journey, leaving an indelible legacy in its wake.
Epilogue: A Rocking Legacy
Dwayne "The Rock" Johnson's return to WWE and his electrifying feud with John Cena left an indelible mark on the annals of wrestling history. With their clashes, camaraderie, and unforgettable moments, this era stands as a testament to The Rock's enduring charisma and impact on the sport.
The Rock's Impact on Wrestling and Hollywood: A Journey Through Time
The Rock's Memorable Appearance at Impact Wrestling's Bound for Glory 2020
Delve into the crossover that brought electrifying energy to the wrestling world. The Rock's appearance at Impact Wrestling's Bound for Glory 2020 left an indelible mark, honoring Ken Shamrock's legacy.
A Hollywood Icon's Stepping Stone: Mainstream Crossover
"It Doesn't Matter" – The Rock's Musical Adventure
Venturing into the realm of music, The Rock collaborated with Wyclef Jean on the hit single "It Doesn't Matter," showcasing his versatility. His appearance in the song's music video added a new dimension to his charismatic persona.
From the Ring to the Screen: Television Appearances
The Rock's presence transcended wrestling as he stepped into television. His portrayal of his own father on That '70s Show and his role as an alien wrestler on Star Trek: Voyager underscored his growing influence beyond the squared circle.
Saturday Night Live Host: A Turning Point
In a pivotal moment, The Rock graced the stage of Saturday Night Live, showcasing his comedic prowess. The success of this appearance ignited his journey to Hollywood stardom, setting the stage for his iconic film roles.
Rising Stardom in Hollywood: A Trailblazing Career
The Scorpion King: A Cinematic Debut
The Rock's cinematic debut as The Scorpion King in The Mummy Returns marked a turning point. His charisma and presence captivated audiences, propelling him into the realm of blockbuster films and record-breaking successes.
Covers, Accolades, and Entertainment Legacy
Embracing the spotlight, The Rock adorned magazine covers and earned accolades that mirrored his multifaceted impact. His influence extended to video games, further solidifying his status as an entertainment powerhouse.
Social Media Sensation: Global Following
In the digital age, The Rock's charisma extended to social media, with his Instagram account garnering over 390 million followers, placing him among the world's top influencers.
The Rock's Journey Through Hollywood: From Wrestler to Actor
Early Ventures and Hollywood Emergence
Transitioning from wrestling to Hollywood, The Rock's work ethic and popularity drove his ascent. From his early roles in The Mummy Returns to his charismatic presence in Fast Five, his journey was marked by determination.
Stardom Defined: Blockbuster Roles
Dominating the box office, The Rock's portrayal of Luke Hobbs in Fast Five set the stage for a series of blockbuster triumphs. From G.I. Joe: Retaliation to Furious 7, his presence revitalized franchises and captured audiences worldwide.
Comedy, Action, and Animation: Versatile Performances
Beyond action roles, The Rock showcased his versatility with comedic turns and animated performances. Central Intelligence, Moana, and Jumanji: Welcome to the Jungle demonstrated his range and appeal.
Continued Excellence and New Horizons
Franchise Legacy and Future Prospects
Steadfast in his commitment to franchises, The Rock's involvement in the Fast & Furious universe solidified his legacy. With Hobbs & Shaw and upcoming projects, his influence remains a driving force.
Hollywood's Highest Earner and Diverse Roles
Earning accolades and success, The Rock's journey led him to being named Hollywood's highest-grossing actor in 2013. His diverse roles, from Fast & Furious to Hercules, showcased his multifaceted talents.
A Journey Beyond: Impact on Wrestling and Film
From wrestling's electrifying ring to Hollywood's grand stages, The Rock's journey continues to captivate. With his indomitable spirit and iconic presence, he leaves an enduring impact on both realms.
Dwayne Johnson's Career Expansion: From Hollywood to Entrepreneurship
Dwayne Johnson's Unstoppable Journey: Career Expansion 2015–Present
Embark on a thrilling exploration of Dwayne Johnson's remarkable journey through Hollywood, entrepreneurship, and beyond.
Captivating Audiences: Disney Collaborations and Action-Packed Roles
Disney's Jungle Cruise: Adventure Unleashed
Witness the magic as Dwayne Johnson and Emily Blunt join forces in Disney's Jungle Cruise. Their captivating performances as Frank Wolff and Lily Houghton bring a beloved theme-park ride to life, captivating audiences worldwide.
Netlfix's Red Notice: A Star-Studded Thriller
Experience the thrill of Red Notice, a Netflix film that unites Dwayne Johnson, Gal Gadot, and Ryan Reynolds. Written and directed by Rawson Marshall Thurber, this cinematic masterpiece showcases Johnson's enduring on-screen charisma.
A Multifaceted Maestro: Producer, Actor, and Visionary
San Andreas Sequel: A Tremendous Revelation
Prepare for seismic excitement as a sequel to San Andreas takes shape. With Dwayne Johnson's producer role and Brad Peyton's directorial prowess, the stage is set for another heart-pounding adventure.
The Birth of Black Adam: From Concept to Reality
Delve into the origins of Black Adam, a DC Extended Universe marvel. Dwayne Johnson's role as both star and producer has fueled anticipation for this cinematic venture, promising a fresh take on a beloved character.
Epic Ventures: Unveiling The Foundation
Witness the fusion of Dwayne Johnson's talent with Fortnite Battle Royale. As the enigmatic character "The Foundation," Johnson's involvement tantalized fans, culminating in a captivating reveal that left audiences awestruck.
A Timeless Icon: Luke Hobbs Returns
Celebrate the return of a fan-favorite character as Dwayne Johnson reprises his role as Luke Hobbs. His cameo appearance during the mid-credits scene of Fast X serves as a thrilling reminder of his impact on the Fast & Furious franchise.
From Hollywood Mogul to Visionary Producer
Building an Entertainment Empire: Seven Bucks Productions
Discover the genesis of Dwayne Johnson's production powerhouse, Seven Bucks Productions. Founded in 2012, this company has spearheaded numerous successful ventures, amplifying Johnson's influence in the industry.
Trailblazing Productions: A Visionary's Portfolio
Explore Dwayne Johnson's diverse production portfolio, a testament to his creative foresight. From The Janson Directive to John Henry & The Statesmen, his ventures exemplify innovation and creativity.
Humanitarian Efforts: A Wrestler's Heart
Unveil Dwayne Johnson's philanthropic endeavors, from hosting reality series to supporting causes close to his heart. His commitment to making a positive impact mirrors his dedication to entertainment excellence.
A Legacy of Success and Innovation
A Literary Triumph: The Rock Says…
Celebrate Dwayne Johnson's literary achievement with "The Rock Says…". This autobiography soared to the top of The New York Times Best Seller list, offering readers a captivating glimpse into his journey.
The Titan Games: Conquering New Frontiers
Join Dwayne Johnson as he hosts The Titan Games, a testament to human determination and strength. This NBC competition series exemplifies Johnson's commitment to showcasing extraordinary feats.
Project Rock: Blending Fitness and Fashion
Witness the evolution of Project Rock, Dwayne Johnson's collaboration with Under Armour. From gym bags to apparel, this endeavor fuses fitness and fashion, empowering individuals to conquer their goals.
A Spirited Entrepreneur: Teremana Tequila
Savor the success of Teremana Tequila, Dwayne Johnson's venture into the world of spirits. With 600,000 nine-litre cases sold in its debut year, this endeavor underscores Johnson's diverse entrepreneurial prowess.
A Harmonious Fusion: Dwayne Johnson and Tech N9ne
Celebrate the synergy between Dwayne Johnson and rapper Tech N9ne. Their collaboration on the song "Face Off" showcases Johnson's ability to seamlessly integrate his charisma into various artistic realms.
Activism and Philanthropy: Dwayne Johnson's Impactful Legacy
Unlock the inspiring journey of Dwayne Johnson's philanthropic and activist endeavors, highlighting his commitment to positive change and social impact.
Empowering the Youth: "Smackdown Your Vote" Campaign
Explore Dwayne Johnson's influential role in WWE's "Smackdown Your Vote" campaign during the 2000 Democratic National Convention. Discover how his involvement aimed to inspire young people to exercise their right to vote.
A Unifying Figure: A Bipartisan Approach
Delve into Johnson's unique stance as a non-partisan advocate. Gain insight into his speaking role at the 2000 Republican National Convention, showcasing his commitment to engaging across political divides.
A Journey of Endorsements: Political Evolution
Trace Johnson's political journey through the years. From endorsing Barack Obama in the 2008 and 2012 elections to expressing his independence in 2016, witness the evolution of his political beliefs.
A Presidential Prospect: Johnson's Political Aspirations
Uncover Dwayne Johnson's aspirations for political leadership. Learn how he expressed interest in running for president and uniting the nation, showcasing his dedication to public service.
Philanthropy Beyond Boundaries: Making a Difference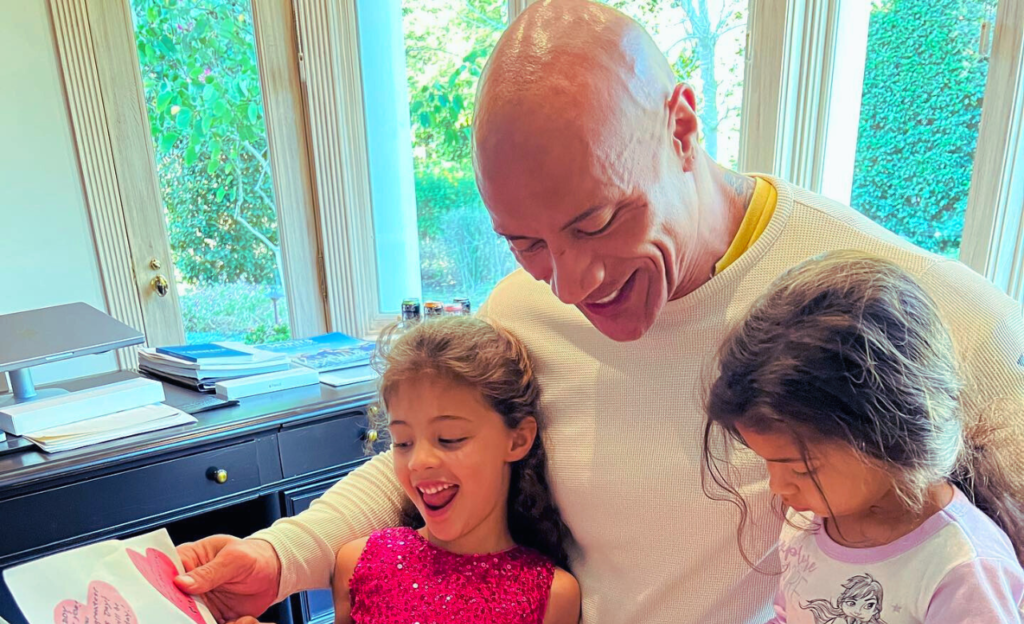 Dwayne Johnson Rock Foundation: Championing Children's Causes
Discover the inception of the Dwayne Johnson Rock Foundation in 2006. Delve into its mission of supporting at-risk and terminally ill children, exemplifying Johnson's commitment to making a positive impact.
A Legacy of Giving: Transforming Lives
Learn about Johnson's impactful donations and contributions. From donating to Hurricane Harvey relief efforts to supporting abandoned animals in need, explore his diverse philanthropic initiatives.
Supporting Communities: Rebuilding Together
Witness Johnson's dedication to community support. Explore his efforts to rebuild military bases and repair flood-damaged areas, showcasing his commitment to fostering resilience.
A Landmark Donation: SAG-AFTRA Foundation
Discover Johnson's generosity during the 2023 SAG-AFTRA strike. Unveil his substantial donation to the foundation, igniting positive change within the entertainment industry.
Behind the Scenes: A Glimpse into Personal Life
A Tale of Love: Johnson's Marital Journey
Dive into Dwayne Johnson's personal life and relationships. Trace his journey from his marriage to Dany Garcia to his loving partnership with Lauren Hashian, showcasing his role as a dedicated family man.
Championing Family Bonds: The Next Generation
Explore Johnson's devotion to his family. From his daughters Simone, Jasmine, and Tiana to his profound connection to his Samoan heritage, witness his commitment to preserving family values.
A Legacy Carved in Ink: Symbolic Tattoos
Uncover the stories behind Dwayne Johnson's meaningful tattoos. Learn how each tattoo represents his cultural heritage, personal experiences, and significant milestones.
Personal Life of Dwayne Johnson: A Journey of Relationships and Achievements
Dwayne "The Rock" Johnson, a renowned actor, producer, and former professional wrestler, is not only recognized for his remarkable career but also for his vibrant personal life. Beyond the spotlight, Johnson's personal life has been a mix of relationships, accomplishments, and connections with his Samoan heritage. This article delves into various aspects of Johnson's personal life, from his relationships to his philanthropic endeavors and cultural heritage.
Early Love Story: Meeting Dany Garcia in University
In the early 1990s, Dwayne Johnson's life took a significant turn when he met Dany Garcia during their time at the University of Miami. The two shared a connection that would eventually evolve into a deep bond of love and companionship.
A Union and Separation: Marriage and Divorce
Their connection led to marriage on May 3, 1997, marking a pivotal moment in Johnson's personal life. However, after more than a decade together, Johnson and Garcia announced their amicable separation on June 1, 2007. The divorce was finalized in May 2008, showcasing their commitment to mutual respect.
Finding New Love: Lauren Hashian and Their Journey
In 2007, Dwayne Johnson found love again, this time with Lauren Hashian, the daughter of Boston drummer Sib Hashian. Their love story began in 2006, coinciding with Johnson's filming of "The Game Plan." Their relationship grew stronger over the years, leading to a beautiful union on August 18, 2019, in Hawaii.
Family Expansion: Welcoming Daughters Jasmine and Tiana
Johnson and Hashian's love story was further enriched with the arrival of their daughters, Jasmine and Tiana. Jasmine was born on December 17, 2015, followed by Tiana on April 17, 2018. The growing family found joy in their shared experiences and cherished moments.
The Abode: Homes in Los Angeles, Virginia, and Florida
The Johnson-Hashian family resides in Los Angeles, where they have established their home base. Additionally, they maintain a farm in Virginia, symbolizing their connection to nature. Furthermore, they have a residence in Southwest Ranches, Florida, showcasing their diverse lifestyle.
Cultural Honor: Seiuli Title and Samoan Heritage
Dwayne Johnson's heritage holds a special place in his heart. Due to his lineage as a descendant of Samoan chiefs, he was bestowed with the noble title of Seiuli by Malietoa Tanumafili II during his visit to Samoa in 2004. This recognition is a testament to his commitment to his cultural roots.
Citizenship Journey: Gaining Canadian Citizenship
In 2009, Dwayne Johnson gained Canadian citizenship through his father's birth and citizenship. This step further exemplified his international connections and the value he places on his family heritage.
Inked Memories: Dwayne Johnson's Tattoo Journey
Johnson's body is adorned with meaningful tattoos that tell stories of his life and beliefs. From a partial Samoan pe'a tattoo to a symbolic "Brahma bull" tattoo, each inked artwork holds a personal significance.
Legacy Continues: Dwayne Johnson's Daughter, Simone
Dwayne Johnson's legacy extends to his daughter, Simone. In February 2020, WWE announced that Simone had embarked on her own journey in the wrestling world, training at the WWE Performance Center. This makes her the first fourth-generation WWE wrestler, carrying forward the family's legacy.
Conclusion
Dwayne Johnson's personal life is a tapestry of love, resilience, and cultural pride. From early relationships to new beginnings, his journey exemplifies the human experiences that shape us all. As he continues to make strides in the entertainment industry, his personal life remains a source of inspiration for many.
FAQs
Q: Did Dwayne Johnson vote in the presidential elections?
A: Yes, Dwayne Johnson voted for Barack Obama in the 2008 and 2012 presidential elections, and he endorsed Joe Biden in the 2020 presidential election.
Q: What philanthropic efforts has Dwayne Johnson been involved in?
A: Dwayne Johnson has been actively engaged in philanthropy, including founding the Dwayne Johnson Rock Foundation and contributing to various causes such as Hurricane Harvey relief efforts and Make-A-Wish Foundation.
Q: How many daughters does Dwayne Johnson have?
A: Dwayne Johnson has two daughters, Jasmine and Tiana, with his wife, Lauren Hashian.
Q: What is the significance of Dwayne Johnson's Seiuli title?
A: The Seiuli title was bestowed upon Dwayne Johnson by Malietoa Tanumafili II in recognition of his service to the Samoan people and his lineage as a descendant of Samoan chiefs.
Q: Has Dwayne Johnson's daughter, Simone, pursued a career in wrestling?
A: Yes, Simone Johnson has embarked on a wrestling career, training at the WWE Performance Center and becoming the first fourth-generation WWE wrestler.
Q: How has Dwayne Johnson celebrated his Samoan heritage?
A: Dwayne Johnson's Samoan heritage is a significant part of his identity, as reflected in his tattoo choices and his commitment to cultural traditions.
============================================
2023 escape the rock,the rock happy hour,
the slide rock bolter,
bocchi the rock nhentai,
bocchi the rock r34,merry on the rocks manga,
monaco the rock,
rock bag the forest,
the forest rock bag,
the rock png,
bocchi the rock figure,
honey in the rock chords,
journey to the rock,
reggae on the rocks 2023,
the rock in this photograph mostly likely formed in,
the rock sunglasses,
who rocked the boat,
bochi the rock hentai,
rock singer who played with the stooges,
the chicks little rock,
3rd rock from the sun sweepstakes,
art on the rocks 2023,
blue balls on the rocks,
bocchi the rock body pillow,
bud light rocks the boat 2023,
hosanna blessed be the rock lyrics,
hosanna blessed be the rock of my salvation,
lindy on the rocks,
rock the block fairfax,
rock the block novato 2023,
rock the farm 2022,
sweet vermouth on the rocks with a twist,
the oaks at rock creek,
the shark awaits in lonely rocks,
the springs high rock lake,
bocchi the rock gogoanime,
elmhurst rock the block 2022,
gogoanime bocchi the rock,
rock the docks springfield lake 2023,
novato rock the block 2023,
rocks against the machine crossword,
rumble at the rock,
bocchi the rock osu skin,
how old is faye from the rock squad,
rock the lake 2022,
the rock sofa,
volley in the rock 2023,
honey in the rock lyrics and chords,
narrow opening caused by the separation of rocks,
rock the lake 2023,
rock the park austin,
rick on the rocks florida dad blogger lifestyle travel,
rock the cradle 2023,
rock the universe 2024,
rocks against the machine,
the rock cardboard cutout,