John Cena: The Reigning Champion of Wrestling and Entertainment
Table of Contents
An Unforgettable Journey of Triumph and Stardom
John Felix Anthony Cena, born on April 23, 1977, is an iconic figure in the world of professional wrestling, acting, and music. With an impressive array of accomplishments, Cena has etched his name in history as an American professional wrestler and a versatile entertainer.
A Wrestling Legacy Like No Other
Cena's journey commenced when he relocated to California in 1998 to embark on a bodybuilding career. A year later, he transitioned to the realm of professional wrestling, making his debut with Ultimate Pro Wrestling (UPW). In 2001, Cena's potential caught the attention of the World Wrestling Federation (WWF), now known as WWE. He was then assigned to the developmental Ohio Valley Wrestling (OVW), where he clinched both the OVW Heavyweight Championship and the OVW Southern Tag Team Championship.
The Evolution of a Phenomenon
2002 marked a pivotal year for Cena as he moved to SmackDown, where he gained rapid recognition for adopting a charismatic trash-talking rapper persona. His unique style and magnetic stage presence catapulted him to stardom. Subsequently, Cena clinched the WWE Championship in 2005, transitioning into a clean-cut, heroic character often likened to "goody-two-shoes Superman." He became WWE's franchise player and the face of the company for the following decade.
A Record-Setting Champion
With an unmatched 16-time world championship reign, Cena's dominance within the wrestling arena is unparalleled. He boasts a remarkable 13-time WWE Championship and three-time World Heavyweight Championship. His extensive collection of titles includes five WWE United States Championships, two WWE Tag Team Championships, two World Tag Team Championships, two Royal Rumble victories, and a memorable Money in the Bank win.
The Stage Beyond Wrestling
Cena's prowess extends beyond the ring. He has captivated audiences with his acting prowess, making notable appearances in films such as "The Marine" (2006), "Trainwreck" (2015), "Ferdinand" (2017), "Blockers," and "Bumblebee" (both 2018). His acting journey reached new heights with his role as Jakob Toretto in "F9" (2021) and "Fast X" (2023). Notably, Cena took on the character of Peacemaker in "The Suicide Squad" (2021) and its eponymous television series (2022–present). Additionally, Cena's musical talent shone with the release of his studio album "You Can't See Me" in 2005.
Beyond Entertainment: A Heart of Gold
Cena's influence transcends his role as an entertainer. His philanthropic endeavors have left an indelible mark, mainly through his involvement with the Make-A-Wish Foundation. His unwavering commitment has resulted in granting over 650 wishes, solidifying his status as a beacon of hope and inspiration for countless lives.
Unveiling John Cena's Early Life: An Inspiring Journey to Success
A Glimpse into the Formative Years
Discover the intriguing origins of John Cena, a multifaceted individual whose journey to fame started in West Newbury, Massachusetts on April 23, 1977. Delve into the captivating narrative of his upbringing, family heritage, and the events that shaped his trajectory toward becoming a renowned wrestler and entertainment personality.
A Tapestry of Heritage
Cena's lineage is a fusion of diverse backgrounds. His mother, Carol (née Lupien), and father, John Joseph Cena, come from distinct ancestries. Carol's heritage encompasses English and French-Canadian roots, while John Cena's father, once a ring announcer for Chaotic Wrestling, traces his roots back to Italy. A baseball legend, Tony Lupien, stands as Cena's maternal grandfather, while businessman Ulysses J. Lupien is his great-grandfather.
A Sibling Bond
Growing up in a family of camaraderie, Cena is the second eldest among his five siblings: Dan, Matt, Steve, and Sean. Fueling his passion for wrestling, Cena and his brothers would ingeniously craft championship belts from cardboard, paving the way for the superstar he would become.
A Quest for Strength
As a young Cena navigated school life, his journey was not without challenges. He encountered hardships including teasing and physical altercations. At the tender age of 12, he set his sights on a weightlifting bench, a pivotal step that foreshadowed his future as a powerhouse in the world of wrestling.
Shaping an Academic and Athletic Odyssey
Cena's educational journey took him to Central Catholic High School in Lawrence, Massachusetts, before he embarked on a transition to Cushing Academy, a prestigious prep boarding school in Ashburnham, Massachusetts. His quest for knowledge and excellence eventually led him to Springfield College in Springfield, Massachusetts.
A Triumph in Athletics
During his time at Springfield College, Cena excelled both academically and athletically. He showcased his prowess on the football field, earning recognition as an NCAA Division III All-American center and serving as captain of the football team. His unwavering dedication and leadership qualities set him apart.
A Scholarly Pursuit
Cena's commitment to personal growth and learning manifested in his graduation from Springfield College in 1999. Armed with a degree in exercise physiology and body movement, Cena ventured into a bodybuilding career, leveraging his understanding of the human physique to forge his path.
The Grit Behind the Glamour
Before attaining global stardom, Cena's journey included humble beginnings. He worked as a limousine driver and even found himself employed at Gold's Gym, immersing himself in the world of fitness. These experiences laid the foundation for his unyielding work ethic and determination.
The Path to Wrestling Supremacy
The Genesis of a Dream
Fuelled by an admiration for wrestling icon Hulk Hogan, Cena's ambition led him to California in 1998. This pivotal decision marked the commencement of his training for a remarkable wrestling career. His dedication came to fruition as he began honing his skills at Ultimate Pro Wrestling's (UPW) Ultimate University.
The Rise of The Prototype
Cena's journey within the wrestling arena was marked by tenacity and innovation. Emerging from local flea markets, he evolved into an in-ring performer, adopting the persona of The Prototype—a semi-robotic character. This phase of his career was documented in the Discovery Channel program "Inside Pro Wrestling School."
Mastering the Ring
Cena's prowess shone through as he secured the UPW Heavyweight Championship for 27 days in April 2000. His journey continued within UPW until March 2001, when he showcased his commitment and skill, setting the stage for the next chapter of his wrestling odyssey.
John Cena's Wrestling Odyssey: From Prototype to Doctor of Thuganomics
Exploring Cena's Early Wrestling Ventures
Dive into the riveting story of John Cena's entry into the world of professional wrestling. Unveil the key milestones and transformative moments that propelled him from a promising newcomer to an iconic figure known for his captivating persona and undeniable prowess.
A Developmental Beginnings
In the year 2001, Cena embarked on a remarkable journey by signing a developmental contract with the WWF (now WWE). He was swiftly placed within the confines of Ohio Valley Wrestling (OVW), the nurturing ground for wrestling talents. During his time there, Cena's wrestling identity was "The Prototype," a moniker under which he held the prestigious OVW Heavyweight Championship for three months and the OVW Southern Tag Team Championship (alongside Rico Constantino) for two months.
Rising Through the Ranks
Throughout the initial months of 2002, Cena's journey involved gracing WWF's house shows. His tenacity was evident as he engaged in captivating matches against notable opponents like Shelton Benjamin and Tommy Dreamer. This exposure served as a stepping stone for his ultimate rise.
Transition to the Main Stage
June 2002 marked a significant juncture as Cena's efforts culminated in a main roster call-up. Despite this transition, his presence in OVW programming persisted until September 25, when he participated in a "Loser Leaves OVW" match against Kenny Brolin. Notably, Cena's brief appearance in a developmental farm in November, under the alias "Mr. P," added another layer to his evolving wrestling persona.
The Birth of The Doctor of Thuganomics
A Dazzling WWE Debut
Cena's WWE television debut, which occurred on the June 27 episode of SmackDown!, showcased his charisma and potential. Answering Kurt Angle's open challenge, Cena's display of "ruthless aggression" captured attention, despite his pinning combination loss. This debut earned him admiration from fellow wrestlers and fans alike.
Embracing Fan Favoritism
Cena's journey took a decisive turn as he transitioned into a fan-favorite figure. Following his debut match, he received congratulations from esteemed personalities such as Billy Kidman, Faarooq, Rikishi, and The Undertaker. This positive reception marked the beginning of his enduring connection with the audience.
The Evolution of Character
Cena's transformation continued, leading to his feud with Chris Jericho. His triumph over Jericho at Vengeance on July 21 solidified his place as a rising star within the WWE universe. The following months saw him embark on a series of engaging encounters, each contributing to his character's evolution.
The Doctor of Thuganomics Emerges
A pivotal shift occurred as Cena's persona took on a new dimension. He embraced the identity of "The Doctor of Thuganomics," a charismatic rapper who seamlessly integrated rhyming into his promos. His distinctive appearance, characterized by hats and sports jerseys, complemented his new ring gear.
Champions and Challenges
Cena's journey was punctuated by championship victories and enthralling matches. He clinched the United States Championship at WrestleMania, marking his first singles championship in WWE. While the path wasn't devoid of challenges, including a brief period of adopting a heel persona, Cena's resiliency and ability to connect with the audience remained unwavering.
John Cena's Championship Reign: Dominance and Challenges
Unveiling John Cena's WWE Championship Era
Step into the realm of John Cena's electrifying WWE Championship reign from 2005 to 2007. Discover the moments of triumph, adversity, and the evolution of Cena's wrestling persona that cemented his status as a formidable champion in the world of professional wrestling.
Battling for Gold
John Cena's ascent to the top of the WWE began in a dramatic fashion. In the 2005 Royal Rumble match, Cena demonstrated his tenacity, making it to the final two alongside Batista. Although the match initially ended in a double elimination, Batista emerged victorious in the rematch.
Road to WrestleMania
Cena's journey to WrestleMania 21 was marked by intense rivalries and hard-fought battles. After defeating Kurt Angle at No Way Out, he secured a spot in the SmackDown! brand's WrestleMania 21 main event. This marked the inception of a fiery feud with the then WWE Champion John "Bradshaw" Layfield (JBL) and his Cabinet.
WrestleMania Glory
WrestleMania 21 witnessed Cena's meteoric rise as he triumphed over JBL to clinch his first-ever WWE Championship. This milestone marked a turning point in his career, as he showcased his prowess and determination in front of the world.
Defending the Throne
Cena's reign as champion was characterized by unyielding defense of his title. Amidst challenges and adversaries, Cena maintained his dominance. Notably, an "I Quit" match against JBL at Judgment Day solidified his reign and silenced doubts about his capabilities.
Raw Transition and New Foes
A pivotal moment arrived when Cena was drafted to the Raw brand, marking a new chapter in his journey. He immediately found himself in a tussle with Raw General Manager Eric Bischoff, leading to captivating confrontations that kept fans on the edge of their seats.
Feuds and Triumphs
Cena's time on Raw was punctuated by thrilling rivalries and championship defenses. From triple-threat matches to unforgettable showdowns, he exhibited his resilience and in-ring prowess. His SummerSlam victory against Chris Jericho and subsequent clashes with Kurt Angle showcased his ability to adapt and conquer.
Champion of Champions
Cena's reputation as a champion extended beyond brand boundaries. His involvement in an inter-brand angle to determine the "Champion of Champions" highlighted his influence. This period also witnessed his involvement in captivating storylines, including a memorable encounter with non-wrestler Kevin Federline.
Retaining and Overcoming
Cena's journey was marked by breathtaking encounters and triumphs. He successfully defended his title against formidable opponents, showcasing his resilience and dedication. Memorable matches against Umaga, Edge, and Bobby Lashley underscored Cena's ability to emerge victorious even in the face of adversity.
Injury and Resilience
Despite his unyielding spirit, Cena faced a setback due to injury during a match with Mr. Kennedy. This legitimate torn pectoral muscle tested his determination. Although sidelined, Cena's resilience shone as he embraced the rigorous rehabilitation process.
A Remarkable Era Concludes
Cena's legendary WWE Championship reign eventually came to a close due to his injury. Stripped of the title, Cena's journey stood as a testament to his unwavering dedication and impact on the wrestling landscape. His surgery and rehabilitation journey highlighted his commitment to returning stronger than ever.
John Cena's Reign as World Heavyweight Champion: An Era of Triumphs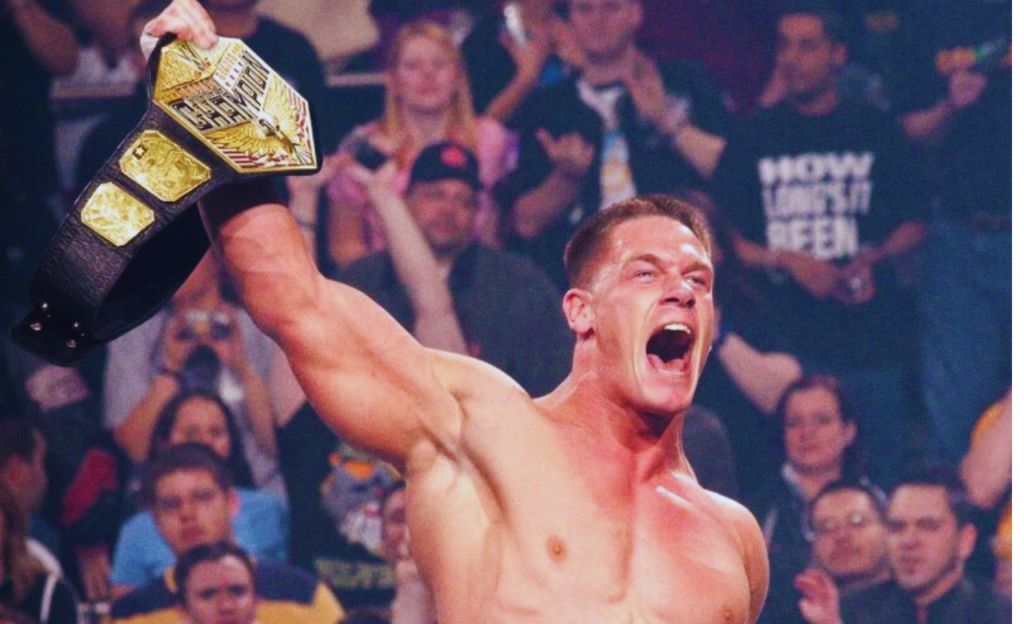 Revisiting Cena's World Heavyweight Championship Legacy
Step into the ring of history as we delve into John Cena's extraordinary reign as the World Heavyweight Champion from 2008 to 2010. From surprising returns to epic battles, Cena's journey unfolds with determination, resilience, and unforgettable moments.
Royal Rumble Return and a Shot at Gold
In a stunning comeback, Cena redefined the Royal Rumble in 2008. His unexpected appearance as the final participant and triumphant victory not only secured him the coveted title shot but also set the stage for a championship saga like no other.
Quest for WWE Championship: No Way Out Drama
Cena's pursuit of the WWE Championship led him to an intense encounter with Randy Orton at No Way Out. While victory was within his grasp, fate had other plans. Despite the disqualification outcome, Cena's determination remained unshaken.
WrestleMania Triple Threat Showdown
Marching towards WrestleMania, Cena's resolve faced a critical test. A triple-threat match for the WWE Championship against Orton and Triple H showcased his endurance and wrestling prowess, solidifying his position as a force to be reckoned with.
Battles and Feuds
Cena's journey was marked by fierce rivalries and electrifying battles. His clashes with JBL, Batista, and CM Punk showcased his adaptability and his ability to captivate audiences with his in-ring skills.
World Tag Team Champion
Joining forces with Batista, Cena added another accolade to his name – the World Tag Team Championship. Their reign wasn't without challenges, but Cena's resilience shone as he demonstrated his versatility and camaraderie.
Overcoming Adversity
Cena's path was marred by injury, but his spirit remained unbroken. Overcoming a herniated disc and undergoing successful surgery, he made a triumphant return to the ring, displaying his unwavering determination.
World Heavyweight Champion
In a thrilling showdown, Cena claimed his first World Heavyweight Championship. Defeating Chris Jericho at Survivor Series, he elevated himself to new heights, etching his name in the annals of wrestling history.
WrestleMania Triumphs and Setbacks
Cena's pursuit of excellence continued with victories and challenges at WrestleMania. Conquering Triple H and Big Show in a triple-threat match showcased his prowess, while his rematch with Edge ended in a dramatic loss.
Unforgettable Showdowns
Cena's journey was marked by unforgettable battles against formidable foes. Overcoming Big Show, The Miz, and JBL, he showcased his resilience and commitment to his craft.
Climax and Legacy
As Cena's World Heavyweight Championship reign drew to a close, his impact remained indelible. His battles against Batista and Edge showcased his resilience and determination, leaving an enduring legacy in the wrestling world.
John Cena's Legendary Feuds: Nexus, The Rock, and CM Punk
Exploring Cena's Iconic Wrestling Feuds
Dive into the enthralling world of professional wrestling as we unravel the gripping storylines of John Cena's feuds with The Nexus, The Rock, and CM Punk from 2010 to 2013. Brace yourself for a roller-coaster ride of rivalries, challenges, and unforgettable moments.
The Rise of The Nexus
In a shocking turn of events, Cena found himself at the mercy of The Nexus on a fateful night in June 2010. Attacked by the formidable group during a match against CM Punk, Cena's world was turned upside down as Wade Barrett led the charge. This marked the inception of a feud that would leave an indelible mark on WWE history.
Battles and Setbacks
Cena's clashes with The Nexus came at a cost. Amid their interference, Cena's pursuit of the WWE Championship faced hurdles. A tough loss at Fatal 4-Way against Sheamus and a steel cage defeat at Money in the Bank against the same opponent left Cena reeling. But every setback only fueled his determination.
Alliance Against The Nexus
In response to The Nexus' reign of chaos, Cena united with fellow WWE Superstars to take a stand. The alliance with Edge, Chris Jericho, and others led to a showdown at SummerSlam. In a thrilling battle that saw the return of Daniel Bryan, Cena's resilience paved the way for a hard-fought victory.
Nexus Dominance Continues
Despite his valiant efforts, Cena found himself at a crossroads. A clash with Wade Barrett at Hell in a Cell carried high stakes – if Cena lost, he would join The Nexus. Unfortunately, Barrett emerged victorious, compelling Cena to reluctantly become a part of the very group he had fought against.
Tag Team Triumph and Turmoil
In a surprising turn of events, Cena's alliance with David Otunga resulted in a WWE Tag Team Championship victory. However, the fleeting triumph was followed by turmoil as Cena was forced to interfere in championship matches, leading to dramatic turnarounds.
Cena's Unpredictable Journey
Cena's journey took unexpected twists. A departure from WWE, a triumphant return, and a surprising rehiring by Wade Barrett added layers of unpredictability to his narrative. His clash with Barrett in a chair match at TLC: Tables, Ladders & Chairs showcased his unwavering spirit.
The Emergence of CM Punk
As Cena's path intertwined with CM Punk's, the wrestling world braced for an explosive showdown. Punk's departure from WWE added intensity to their rivalry. A clash at Money in the Bank saw Punk claim the WWE Championship and leave the company, creating waves that resonated throughout the industry.
The Rock and WrestleMania Confrontation
Cena's path also crossed with a legend – The Rock. A war of words culminated in a tag team championship victory for Cena and The Rock. However, their confrontation was far from over. At WrestleMania, their clash ended in controversy, setting the stage for a monumental rematch.
CM Punk's Dominance and Cena's Resilience
The rivalry with CM Punk reached new heights. Their matches for the WWE Championship left an indelible mark, including Cena's first-ever five-star match. Amid championship switches and fierce battles, Cena's resilience stood as a testament to his unwavering dedication.
Legacy of a Wrestling Icon
As Cena's feuds with The Nexus, The Rock, and CM Punk unfolded, his legacy grew even stronger. He stood as a symbol of perseverance, passion, and sportsmanship, etching his name as one of wrestling's true legends.
John Cena's Wrestling Journey: Feuds with Kane, Lesnar, and Beyond
Exploring Cena's Unforgettable Feuds
Step into the electrifying world of professional wrestling as we delve into the captivating feuds that defined John Cena's career. From intense rivalries with Kane and Brock Lesnar to remarkable championship battles, Cena's journey is one of determination, triumphs, and challenges.
Clash with Kane and The Rock
Kicking off his feud with Kane, Cena found himself entangled in a battle of ideologies. Kane's disdain for Cena's "Rise Above Hate" slogan set the stage for a rivalry fueled by conflicting beliefs. As the tension escalated, Cena faced Kane in a series of intense matches, showcasing his resilience.
Embracing the Hate
In a clash that echoed the sentiments of his feud with Kane, Cena faced a critical challenge – embracing the hate to overcome The Rock. Their iconic WrestleMania showdown left an indelible mark, culminating in a defining moment where The Rock's Rock Bottom sealed the outcome.
Unforeseen Arrival of Brock Lesnar
As Cena sought to congratulate The Rock, an unexpected guest crashed the celebration – Brock Lesnar. The return of Lesnar heralded a new chapter in Cena's journey, leading to a confrontation that would shape the WWE landscape.
Feud with John Laurinaitis and Redemption
Cena's rivalry with Brock Lesnar ignited a feud with John Laurinaitis, the mastermind behind Lesnar's return. Amidst the power struggle, Cena showcased his prowess in an Extreme Rules match against Lesnar, emerging victorious and redefining his legacy.
Challenges and Triumphs
Amidst the chaos, Cena's path continued with ups and downs. A hard-fought victory against Big Show at No Way Out secured his place in the WWE. Cena's determination shone through as he navigated through challenges, culminating in a defining match against Dolph Ziggler.
Pursuit of Championship Glory
Cena's pursuit of championship glory remained relentless. His victory in the Money in the Bank ladder match earned him a contract that he would later cash in on CM Punk. Despite challenges and disqualifications, Cena's journey persisted as he crossed paths with rising stars and seasoned rivals.
Climbing the Ranks and Overcoming The Shield
Cena's ascent to greatness continued with a triumphant victory in the Royal Rumble match. His declaration to pursue the WWE Championship set the stage for a showdown with The Shield. Battling alongside Ryback and Sheamus, Cena faced challenges head-on, reaffirming his contender status.
Redemption and Championship Gold
In a momentous rematch, Cena clashed with CM Punk to secure his position as the #1 contender for The Rock's WWE Championship. At WrestleMania, Cena's triumph over The Rock marked his eleventh WWE Championship win, solidifying his legacy as a wrestling icon.
Rivalry with Ryback and Injuries
As Cena's journey continued, he faced new challenges. A rivalry with Ryback unfolded, pushing Cena to his limits. Despite suffering an Achilles tendon injury, Cena's resilience prevailed as he emerged victorious in various matches, including a Three Stages of Hell encounter.
Passing the Torch and Future
Cena's reign as WWE Champion eventually came to an end, signaling a new era in the wrestling world. With championships won and battles fought, Cena's legacy remains unparalleled. As he embarked on a journey of recovery from triceps tear surgery, his mark on the wrestling world continued to shine.
John Cena's World Championship Pursuits and Reigns (2013–2015)
A Glimpse into Cena's World Championship Journey
Embark on a thrilling ride through John Cena's world championship pursuits and reigns, a period marked by intense rivalries, epic battles, and unyielding determination. As the wrestling world witnessed Cena's unrelenting quest for gold, his journey became a testament to resilience and triumph.
Dominance Regained
Cena's triumphant return at Hell in a Cell on October 27 signaled the resurgence of a fierce competitor. Defeating Alberto Del Rio, Cena clinched his third World Heavyweight Championship. The victory was only the beginning of a chapter that would see him overcome formidable challenges.
Clashes and Challenges
In the aftermath of his return, Cena faced adversaries such as Damien Sandow and Alberto Del Rio, showcasing his supremacy in the ring. The pursuit of unifying championships led to a Tables, Ladders, and Chairs title match against Randy Orton, a challenge that tested Cena's mettle.
Feud with Bray Wyatt
As Cena's journey unfolded, a new foe emerged in the form of Bray Wyatt. With Wyatt's sinister agenda to expose the "era of lies," Cena found himself locked in a battle that tested not only his physical prowess but also his resolve. Their showdown at WrestleMania XXX marked a defining moment in Cena's journey.
War within the Wyatt Family
The feud between Cena and Wyatt evolved into a war that transcended the ring. The Wyatt Family's psychological warfare intensified as Cena's fanbase seemed to shift allegiance. This battle culminated in a chilling steel cage match at Extreme Rules, cementing the psychological warfare's impact.
Triumph and Culmination
Amidst the chaos, Cena's perseverance led to a climactic Last Man Standing match against Wyatt at Payback. In a riveting encounter, Cena emerged victorious by burying Wyatt beneath a mountain of equipment cases, concluding their compelling rivalry.
Rising to the Challenge
Cena's resilience knew no bounds as he embarked on a quest for the vacant WWE World Heavyweight Championship. Overcoming Kane in a stretcher match, he secured his place in the ladder match at Money in the Bank. A triumphant victory in the ladder match marked his 15th world championship.
Battles and Setbacks
Cena's reign was characterized by both epic battles and unexpected setbacks. He defended his championship against formidable opponents like Roman Reigns, Randy Orton, and Kane, showcasing his determination to hold onto the title. However, his dominance faced a formidable challenge in the form of Brock Lesnar.
The Lesnar Challenge
Cena's clash with Brock Lesnar at SummerSlam marked a defining moment. Despite a valiant effort, Cena's championship reign came to an end in a squash match, leaving an indelible mark on his journey.
Redemption and Reckoning
Determined to reclaim the title, Cena invoked his rematch clause against Lesnar at Night of Champions. The match witnessed a disqualification due to Seth Rollins' interference, but Cena became the first to defeat Lesnar in two pay-per-view events, exemplifying his resilience.
Team Cena vs. Team Authority
In a power struggle against The Authority, Cena found himself leading a team against the dominant faction. The outcome of the Survivor Series elimination tag match held significant consequences. With alliances formed and tensions escalating, Cena's leadership became a focal point.
A Legacy of Pursuit
Cena's pursuit of excellence and championship gold shaped an unforgettable chapter in his wrestling legacy. Battling adversaries, enduring psychological warfare, and facing insurmountable odds, Cena's journey stood as a testament to his unbreakable spirit.
John Cena's Reign as United States Champion (2015–2016)
Dominating the United States Championship Scene
Step into the electrifying realm of John Cena's reign as the United States Champion, where every match and rivalry was a testament to his unyielding determination and prowess in the ring.
Clashing with Rusev
Cena's journey as United States Champion ignited with a fierce feud against the dominant Rusev. Their first encounter at Fastlane saw Cena fall short due to Rusev's ruthless Accolade submission hold. However, Cena's resolve remained unshaken, leading to a compelling rematch.
WrestleMania Triumph
WrestleMania 31 became the arena for a showdown that showcased Cena's resilience. A hard-fought battle against Rusev culminated in Cena securing his fourth United States Championship, ending Rusev's pinfall invincibility in the main roster.
The Open Challenge Era
Cena's reign was marked by a unique tradition – the open challenge. Week after week, he laid his United States Championship on the line against a plethora of challengers. From Dean Ambrose to Stardust, each match became a showcase of Cena's skill and determination.
Champion's Resilience
The open challenges were not just about defending the title; they were a testament to Cena's commitment to excellence. Confronting opponents like Bad News Barrett, Kane, and Cesaro, Cena demonstrated that the United States Championship was a symbol of his indomitable spirit.
Cena vs. Owens
The arrival of NXT Champion Kevin Owens added a new layer of rivalry. Cena and Owens engaged in an epic battle of champions at Elimination Chamber and Money in the Bank. The fierce clashes culminated in a thrilling rivalry that captured the WWE Universe's attention.
Champion vs. Champion
Cena's pursuit of greatness knew no bounds. A monumental clash against Seth Rollins for both the WWE World Heavyweight Championship and the United States Championship saw Cena's title reign on the line. Though he fought valiantly, the match ended with an unexpected twist.
Fifth Reign and Record
Cena's redemption was swift and impactful. He recaptured the United States Championship at Night of Champions, etching his name in history as the title's most decorated holder in the WWE ownership era. The steel cage match against Rollins at Madison Square Garden marked another memorable defense.
A Temporary Setback
Even champions face setbacks. Cena's title reign faced a halt as Alberto Del Rio returned to seize the championship in an open challenge at Hell in a Cell. Despite the temporary setback, Cena's spirit remained unbroken.
Resilient Return
Cena's hiatus only fueled his determination. A triumphant return saw him defeat Del Rio by disqualification, rekindling his championship aspirations. As Cena's journey unfolded, his unwavering spirit shone brighter than ever.
A Chapter Ends
As Cena's journey continued, he found himself in a new feud against AJ Styles. This rivalry, characterized by betrayal and redemption, took center stage. The two clashed at WrestleMania 32 and beyond, leaving an indelible mark on Cena's storied career.
A Legacy of Triumph
John Cena's reign as the United States Champion remains a testament to his unmatched dedication, skill, and spirit. From open challenges to epic rivalries, Cena's journey left an indelible mark on the WWE landscape.
John Cena's Evolution: From Gimmick to Legacy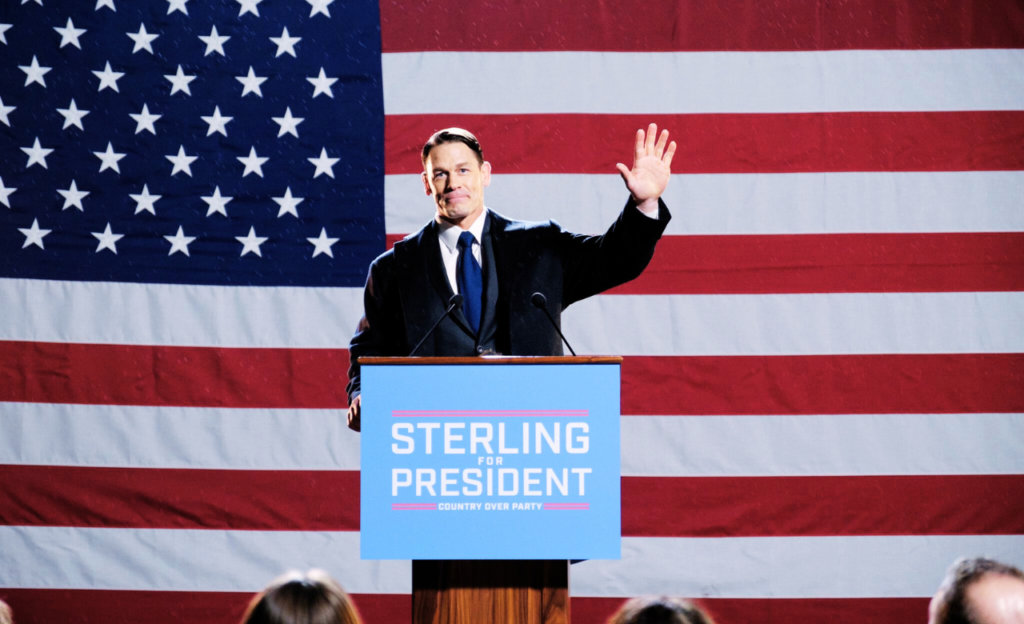 An Intriguing Gimmick
Step into the world of John Cena's wrestling journey as he transformed from a white rapper to a military upstart, leaving an indelible mark on the WWE landscape.
The Doctor of Thuganomics
In his early days, Cena's gimmick as the "Doctor of Thuganomics" was a white rapper persona that captured attention. Adorned in jerseys, backward hats, and a distinctive chain, Cena's character exuded charisma. His pre-match raps taunted opponents and crowds alike, setting the stage for unforgettable showdowns.
An Evolution in Style
Cena's character underwent a significant shift in 2006, transforming from a rapper to a young military-inspired hero. Dog tags, cargo shorts, and a salute to the crowd became his trademarks. Beyond the entertainment, Cena's salute became a tribute to the men and women in uniform.
A Move Toward Respect
As WWE transitioned to a PG era, Cena's finishing moves underwent a transformation to align with the new direction. The FU became the Attitude Adjustment, and the STFU was renamed the STF. The "Five Moves of Doom," a sequence of maneuvers including the Flying Shoulder Block and Attitude Adjustment, became synonymous with his victories.
Heroic Character and Attire
Cena's wrestling persona remained largely heroic throughout his career. His signature jean shorts, sneakers, wristbands, and armbands defined his look. Catchphrases like "Never Give Up" and "Hustle, Loyalty, Respect" adorned his T-shirts, resonating with fans worldwide.
A Legacy of Triumph and Resilience
Cena's legacy extends beyond the ring, marked by his tenacity and strength.
Recuperative Abilities
Cena's ability to recover from injuries defied expectations. Returning earlier than anticipated from both real and scripted injuries showcased his determination. Fellow wrestler Big Show attested to Cena's functional strength, highlighting his reliability in the ring.
Fashion Forward
Cena's attire evolved to reflect the hip-hop culture he represented. From "throwback jerseys" to Cena merchandise, his fashion choices mirrored contemporary styles. Even provocative slogans like "Ruck Fules" were embraced as part of his unique character.
A Tribute to the Military
Cena's attire also paid tribute to the military, especially during his Marine-inspired phase. Camouflage shorts, dog tags, and military-themed merchandise became an integral part of his persona. His "American Made Muscle" slogan resonated with fans.
A Revered Legacy
Cena's legacy within the wrestling world is undeniable.
Praise from Peers
Fellow wrestlers like Kurt Angle, John "Bradshaw" Layfield, and Paul Heyman hailed Cena as the greatest professional wrestler of all time. Jim Cornette, who witnessed Cena's early days, commended his work ethic, athleticism, and microphone skills.
WWE's Iconic Figure
Vince McMahon, WWE chairman, likened Cena to Babe Ruth, recognizing his influence and impact on the industry. Bleacher Report named Cena one of the 10 greatest WWE wrestlers of all time, showcasing his enduring legacy.
Record-Breaking Moments
Cena's influence transcended the ring. WrestleMania XXVIII, featuring his showdown with The Rock, set records for buy rates and live event grossing, solidifying Cena's place in WWE history.
From Gimmick to Greatness
John Cena's journey from a white rapper to a military hero and beyond exemplifies his versatility and impact. His transformation, fashion choices, and unwavering dedication contributed to his storied legacy.
John Cena's Impressive Acting Journey
From WWE Superstar to Silver Screen Sensation
Delve into the captivating acting career of John Cena as he seamlessly transitioned from the wrestling ring to becoming a prominent figure in Hollywood.
The Marine and Beyond
John Cena's acting career kickstarted with WWE Studios' production of his debut movie, "The Marine." Released theatrically by 20th Century Fox, the film garnered approximately $7 million in its opening week, later accumulating $18.7 million at the box office. The DVD release proved even more successful, with $30 million in rentals within the first twelve weeks.
12 Rounds and Legendary
Cena's second venture with WWE Studios was "12 Rounds." Filming began in New Orleans in 2008, and the movie premiered in 2009. He continued his cinematic journey with "Legendary," played in select theaters for a limited time in 2010. The same year, Cena embraced the role of Fred's imaginary father in the children's film "Fred: The Movie."
Expanding Horizons
Cena's acting prowess extended beyond WWE Studios productions.
Comedic Ventures
In 2015, Cena ventured into comedy with appearances in films like "Trainwreck," "Sisters," and a cameo in "Daddy's Home." He showcased his versatility by contributing to the lighthearted genre.
War Drama and Animation
Cena's range continued to evolve, starring in the war drama "The Wall" and lending his voice to animated films like "Surf's Up 2: WaveMania" and "Ferdinand." He demonstrated his ability to excel in diverse roles.
Blockbusters and Beyond
Cena's journey in the film industry took an impressive turn with leading roles in blockbuster films. He starred in the comedy "Blockers," took on the Transformers universe in "Bumblebee," and captivated audiences in "Playing with Fire" as smokejumper superintendent Jake Carson.
Voice Acting and Legacy
Cena's impact in the entertainment world continued.
Animated Charisma
Cena lent his voice to the adventure comedy film "Dolittle," adding a unique layer to his repertoire.
Fast and Furious
Cena's inclusion in "F9" and reprisal of his role in "Fast X" showcased his contribution to iconic franchises, leaving a lasting legacy.
Acknowledging Mistakes
Even stars face challenges, as Cena's reference to Taiwan as "a country" during the "F9" promotional tour sparked controversy. His subsequent apology demonstrated humility and recognition of cultural sensitivities.
Cena's Future Endeavors
Cena's acting journey continues to unfold.
The Peacemaker and Beyond
Cena's versatility shone as he embraced the role of Christopher Smith / Peacemaker in "The Suicide Squad," a character originally intended for Dave Bautista.
Fast X and More
Cena's journey culminated in reprising his role as Jakob Toretto in "Fast X," capturing the essence of iconic franchises.
Exciting Prospects
Cena's future shines brightly, as he prepares to voice Rocksteady in "Teenage Mutant Ninja Turtles: Mutant Mayhem," showcasing his dedication to varied roles.
A Multifaceted Legacy
John Cena's acting career is a testament to his multifaceted talents. From comedy to drama and iconic franchises, Cena's journey in the world of entertainment continues to captivate audiences worldwide.
John Cena's Versatility in Television and Beyond
A Glimpse into John Cena's Television Journey
Discover how John Cena seamlessly transitioned from the wrestling ring to becoming a prominent figure in television and other media platforms.
Manhunt and Fast Cars
Even before his prominence in the acting world, Cena dabbled in television.
Reality TV
In 2001, Cena took on the role of Big Tim Kingman, leader of a group of bounty hunters in the reality show "Manhunt." While the show faced controversy due to allegations of manipulation, Cena's presence showcased his versatility.
Fast Cars and Superstars
Cena's television journey continued with the ABC reality series "Fast Cars and Superstars: The Gillette Young Guns Celebrity Race." His participation, making it to the final round, displayed his determination and competitive spirit.
Exploring Real Issues
Cena's involvement in television extended to exploring real-world topics.
Addressing Controversy
Cena's interview for the CNN documentary "Death Grip: Inside Pro Wrestling" tackled the sensitive issue of steroid and drug use in professional wrestling. His response showcased his willingness to engage with important topics.
Guest Appearances
Cena's charisma translated seamlessly to guest appearances.
From Psych to Disney
Cena left his mark on various television shows, including a guest-starring role in the comedy-drama "Psych" and an appearance as himself in Disney Channel's "Hannah Montana Forever."
Stepping into the Spotlight
Cena's captivating presence continued to shine in the television realm.
Co-Hosting and Interviews
Cena co-hosted "Today" on NBC and appeared on "Late Night with Seth Meyers," showcasing his ability to engage with diverse audiences.
Reality Television and Beyond
Cena's journey expanded further into reality television.
American Grit and Beyond
Cena's hosting role in "American Grit" exemplified his ability to lead and inspire in a reality competition setting, marking yet another facet of his career.
Award Shows and Executive Roles
Cena's involvement in award shows, including hosting the ESPN ESPY Awards, and executive producing the game show "Keep It Spotless," demonstrated his multifaceted capabilities.
Voice Acting and Game Shows
Cena's talent extended to voice acting in "Rise of the Teenage Mutant Ninja Turtles" and hosting the revival of "Are You Smarter than a 5th Grader," showcasing his adaptability.
Entertaining Audiences
Cena's influence on television was unmissable.
Wipeout and Beyond
In 2021, Cena co-hosted the TV game show "Wipeout," continuing to captivate audiences with his energy and charm.
A Legacy of Versatility
John Cena's journey in television showcases his adaptability and ability to engage with diverse content.
John Cena: Beyond the Spotlight
Exploring John Cena's Impact on Pop Culture
Discover the multifaceted aspects of John Cena's life beyond the wrestling ring, from catchphrases to personal endeavors.
Iconic Catchphrase
Unveils the origin and evolution of Cena's famous catchphrase.
From Yayo Dance to "You Can't See Me"
Learn how Cena's "You Can't See Me" catchphrase took root in his WWE journey, tracing back to a dare from his brother.
Internet Phenomenon
Exploring Cena's unexpected rise as an internet meme.
The Meme Phenomenon
delves into how Cena became a subject of various internet memes, showcasing his humor and relatability.
Global Memes and Apologies
Examining Cena's global presence through memes and his response to a social media controversy.
Apology and Memes
Analyzing Cena's apology to China and how it fueled further internet conversations.
Personal Insights
Unveiling Cena's personal life, interests, and unique experiences.
Family and Relationships
Discover Cena's thoughts on parenthood and his journey through relationships.
Engagements and Marriages
Exploring Cena's engagements, marriages, and his unique love story.
Hobbies and Interests
Diving into Cena's eclectic interests, from anime and movies to sports and video games.
Cultural Enthusiast
Unveiling Cena's passion for culture, including his language-learning efforts and musical pursuits.
Legal Matters and Charity
Exploring Cena's involvement in legal matters and his philanthropic efforts.
International Adventures
Peering into Cena's global ventures and experiences.
Chinese Connection
Discovering Cena's ties to China, including his YouTube show and film collaborations.
Living Abroad
Unveiling Cena's temporary relocation to China and his unique experiences in a foreign country.
Innovative Content
Exploring Cena's YouTube show and his efforts to connect with fans through unique content.
A Man of Many Facets
John Cena's impact goes beyond the wrestling world, leaving an indelible mark on various aspects of pop culture.
Not Just Dwayne Johnson, John Cena Dethroned Another WWE God to Become $9.4B Franchise's Highest-Paid Wrestler
In the vibrant realm of entertainment, where the worlds of wrestling and Hollywood often collide, the charismatic figures of John Cena and Dwayne Johnson have shone brightly. Both renowned for their roles in wrestling, these stars have also managed to establish themselves as top earners in the film industry. While Dwayne Johnson, popularly known as "The Rock," has been a powerhouse in both arenas, John Cena's journey from the wrestling ring to Hollywood is a fascinating story of success and transformation. Moreover, the WWE universe has witnessed intriguing shifts in its highest-paid wrestler position, with John Cena's ascent to prominence and his eventual dethroning of a wrestling icon. This article delves into the captivating narrative of how John Cena dethroned another WWE legend to become the franchise's highest-paid wrestler, all while exploring the intriguing dynamics of WWE's earnings structure.
John Cena: From Wrestling Stardom to Hollywood Triumph
Cena's Rise in Wrestling Domination
John Cena's journey to becoming WWE's biggest star was nothing short of remarkable. Beginning as a professional wrestler, Cena's charismatic persona and undeniable talent propelled him to the forefront of WWE's lineup. His captivating performances, engaging storylines, and undeniable connection with the audience elevated him to the status of a wrestling legend. Cena's ability to balance his in-ring prowess with his natural charm made him a fan favorite and a crucial asset to the WWE.
A Transition to Hollywood Success
Cena's journey took an exciting turn as he ventured into the world of Hollywood. His transition from wrestling to acting was a daring move that paid off handsomely. Through dedication and hard work, he managed to establish himself as a credible actor in the competitive industry. With roles in blockbuster films and successful projects, Cena's star continued to rise, cementing his position as not just a wrestling icon but a versatile entertainment powerhouse.
The Evolution of WWE's Highest-Paid Wrestler
Cena's Ascension and Dethroning of WWE Legends
Cena's dual successes in wrestling and Hollywood contributed significantly to his meteoric rise in earnings. This was highlighted when he dethroned other wrestling icons in terms of earnings. Back in 2018, Forbes reported Cena's estimated earnings at $10 million, surpassing renowned names like Brock Lesnar, whose earnings were pegged at $6.5 million. This shift in earning dynamics demonstrated Cena's unparalleled popularity, both in the ring and beyond.
Lesnar's Reemergence and the Dynamic Earnings Landscape
While Cena enjoyed his time at the helm of WWE's earnings hierarchy, the landscape experienced yet another shift. Brock Lesnar, another legendary figure in the wrestling universe, regained his supremacy. Lesnar's lucrative contract with WWE, reportedly earning him $12 million annually, showcased the dynamic nature of WWE's earnings structure. This dynamic nature reflects the industry's commitment to rewarding its top performers and accommodating the transitions of its stars.
WWE's Earnings Structure: Unveiling the Mechanics
The Wrestlers' Earnings Framework
Forbes reports that WWE's wrestlers derive their earnings from a well-structured framework. The framework encompasses a base salary along with a share of the company's revenue. This arrangement ensures that the more the WWE franchise flourishes, the higher the earnings potential for its wrestlers. The fact that WWE is a colossal $9.4 billion franchise implies substantial earnings for each of its renowned wrestlers.
Multiple Streams of Income
Beyond their salaries and revenue shares, WWE wrestlers tap into various sources of income. Merchandise sales play a significant role in boosting their earnings. Fans eagerly purchase merchandise featuring their favorite wrestlers, contributing to the stars' financial success. Additionally, participating in WWE events brings in a substantial portion of the revenue, demonstrating the wrestlers' strong pull and contribution to the franchise's overall prosperity.
FAQs
How did John Cena transition from wrestling to Hollywood?
John Cena's transition from wrestling to Hollywood was a gradual process marked by dedication and hard work. His charismatic persona and natural charm, which endeared him to wrestling fans, also translated well onto the big screen. This made his journey from the wrestling ring to Hollywood's red carpet a seamless and successful one.
Did John Cena's Hollywood success impact his wrestling career?
Indeed, John Cena's Hollywood success had a significant impact on his wrestling career. As he established himself in the film industry, his popularity and star power grew even more. This, in turn, elevated his status within the wrestling community, making him a sought-after figure for WWE events and storylines.
How did John Cena dethrone other WWE legends in earnings?
John Cena's dethroning of other WWE legends in earnings was a result of his multi-faceted success. Not only was he a dominating force in the wrestling world, but his transition to Hollywood brought him additional income and heightened visibility. This combination of wrestling prowess and Hollywood triumphs positioned him as a top earner in the WWE universe.
What led to Brock Lesnar's resurgence in earnings?
Brock Lesnar's resurgence in earnings can be attributed to his high-profile contract with WWE. His star power, wrestling skills, and occasional appearances contributed to his status as a dominant figure in the franchise. The renegotiated contract, reportedly worth $12 million annually, reflects WWE's acknowledgment of Lesnar's significance and contribution.
How does WWE's earnings structure reward its wrestlers?
WWE's earnings structure employs a dual approach to rewarding its wrestlers. They receive a base salary, providing financial stability. Additionally, a share of the company's revenue ensures that their earnings are tied to the franchise's overall success. This incentivizes wrestlers to actively contribute to WWE's growth and prosperity.
What role do merchandise sales play in wrestlers' earnings?
Merchandise sales play a pivotal role in enhancing wrestlers' earnings. Fans' affinity for their favorite wrestlers leads to the purchase of branded merchandise, such as clothing, accessories, and collectibles. This creates an additional revenue stream for the wrestlers, contributing to their overall financial well-being.
Conclusion
The tale of John Cena's journey from the wrestling ring to Hollywood's glitz and glamour is a testament to his multifaceted talents. His success in both arenas propelled him to the position of WWE's highest-paid wrestler, dethroning other iconic figures in the process. WWE's intricate earnings structure, involving base salaries, revenue shares, merchandise sales, and event participation, underscores the financial prospects available to its top performers. As the franchise continues to thrive and evolve, its wrestlers reap the rewards of their dedication and star power, proving that the world of wrestling is as lucrative as it is captivating.