The Stereotypes have flown under the radar for sometime but have their name on a number of hits. From Danity Kane's "Damaged" to Bruno Mars' "That's What I Like" The Stereotypes are no strangers to climbing the charts. Recently they collaborated with Pitbull to release the season's hottest banger "Jungle." Among their Grammy nods this season, they are nominated for: Song of the Year, R&B Song of the year, and Producer of the year.
[Z7KX9T1513273096]
To those who don't know The Stereotypes may see this as a swift climb to fame, but the groups goes way, way back. Johnathon Yip told me that the groups foundation started to be laid in Sacramento. Both Johnathon and Jeremy are from there. Ironically, they met after Johnathon had already been living in LA and working for Interscope Records. On a trip home to Sacramento, to see his dentist, John stopped in the local Guitar Center and there met Jeremy. Jeremy showed John his music and the two kept touch doing a few placements over the years.
After that, they got one of their artists a record deal at Def Jam and while their relationship with the artist ended shortly after. Their relationship with Ray who was an A and R there grew making him the third member of The Stereotypes after leaving his job and moving in with John and Jeremy in LA. The next few years they set up shop in the spare bedroom of their apartment and begin to work. Six months later, they wrote their first hit for Danity Kane and were able to move to a better studio.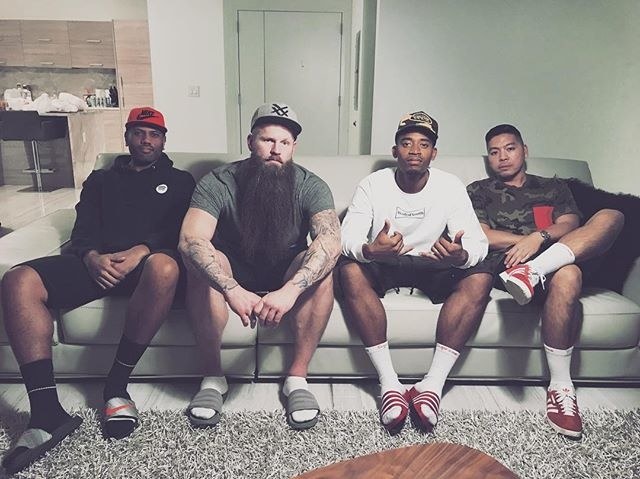 www.stereotypesonline.com
In 2010 Ray Mccullugh joined the group and the anatomy of The Stereotypes as we know it was complete. John told me their ability to bounce ideas off one another is a part of their success. A describes their process as a cab fire. They jump in when they are feeling it. He says it's helpful that they have different musical influences as well. Some members came from a rock background others R and B and even gospel. This is no doubt why they're a production powerhouse for music across all genres. John proudly mentioned, "and no one really knows that we do K Pop. We do that too."
Their work on Bruno Mars' recent album 24K Magic; however, is what has landed them great success this Grammy season. John tells me that their relationship with Bruno goes back to their spare bedroom studio days. He used to come through to jam and record and after losing touch for a few years, they came on board this project and together wrote "That's What I Like." When working with artists John told me the main thing they look for is a good vibe and personality. He feels like they had that with Bruno already and it just picked up where they left off and that's part of the reason for the song's success- it was so fun to write.
[BXLGEE1513273165]
The Stereotypes originally named themselves for the types of stereos, but John says it's become interesting because they are such a diverse group that the name started to hold a double meaning. In an industry saturated by live performances and visuals and more he tells me that their number one goal is to make music. They loved working with Pitbull on the Jungle music video, but for them the music will always come first. Everything else is just a bonus.
---
Anie Delgado is a contributor to Popdust and is an actress and musician based in NYC. Follow her on Instagram | Facebook | Twitter and check out her music on Spotify. Press inquiries here.
POP⚡ DUST | Read More…
INTERVIEW | a Q&A with Rooney's Robert Schwartzman
REVIEW | Nick Hakim's "Green Twins" is a soulful trip through the future