Jack Antonoff has said he wanted to be defined by more than the fame he received as one of the brains behind the band Fun.
That doesn't seem like a difficult thing for the notorious multi-tasker to accomplish. He's worked with Taylor Swift, Carly Rae Jepson, and most recently, Lorde, on the forthcoming "Melodrama," on their most-successful albums to date. If Antonoff's goal is to become the kind of album producer that acts as a secret weapon for musicians, he's on the right track. But that doesn't mean he is willing to sacrifice his personal artistic ventures for the sake of a lot of commercial success with others.
Bleachers, Antonoff's solo project, debuted in 2014 with "Strange Desire," an album mainly conceived while Antonoff was on the road touring with Fun. It sampled old voicemail messages, creating a feeling of nostalgia for a time period you might never have experienced but still know you would have liked had you been there. With the success of the single "I Wanna Get Better" (arguably the motivational theme of the entire album), Antonoff quickly became more than the guy with glasses in Fun. or Lena Dunham's boyfriend. He became, arguably, what Hannah in "Girls" wanted to be: the voice of our generation, or at least a voice, of a generation.
Antonoff's voice on "Strange Desire" was a bit nervous, contemplative, and apologetic. It was a voice that maybe wasn't confident in fully appreciating the power it had been given by its captivated audience.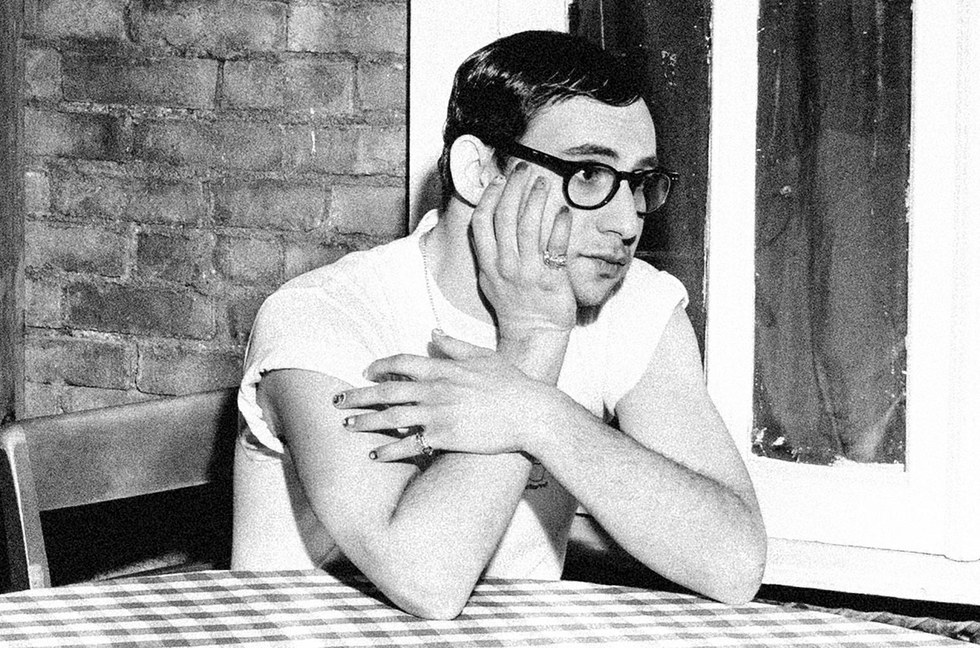 billboard.com
This is virtually the same place where "Gone Now" begins, the first track "Dream of Mickey Mantle" repeating the same mantra that "Strange Desire" opened with: "I wanna be grateful." This idea (and the track) will be reprised later in the album. Much of the album seems to be repeating similar ideas to Bleachers debut, as if another chapter from Antonoff's teenage journal has been discovered.
As a whole, the album does tell a story of sorts (what some are calling a strongly "New Jersey" tale because of the trajectory it takes down winding roads and the saxophone inclusions that feel oddly close to Bruce Springsteen), ideas of saying "Goodmorning" to certain people like Antonoff's upstairs neighbor turning into "I'm Ready to Move On" by the final tracks. In between, we find the usual sampling of anything from a baby crying to pinball machine sounds to work as transitions in a body of work that simply wouldn't function if put on shuffle — "Gone Now" demands to listen to from start to finish, even if you really want to skip past some songs.
The front half of the album is more experimental. "Dream of Mickey Mantle" is the kind of opening track that shows off all of Antonoff's producing chops. It alludes to pretty much everything you will then hear, layering sounds on top of one another to confuse and entice you. However, it feels a little performative for what will show itself to be a heartfelt work. "Goodmorning," musically, feels a little misplaced for a Bleachers album. It's an interesting song, incorporating intricately dispersed piano chords in a truly Antonoff fashion, but it's another mod podge that perhaps doesn't perform as well as other tracks.
The singles from the album work to bring in the powerhouse sound that gets Antonoff radio play. "Hate That You Know Me," a partnership with Jepson, is catchy and speaks to the universal sentiment of being troubled by someone knowing your past and loving you despite it. The first single from the album, "Don't Take The Money," has much of the same desperation that "I Wanna Get Better" held, the same feeling of anticipation gathering in bridges before breaking in choruses. Whether or not this urgency is felt in the music video is debatable (one instance that does feel like Antonoff having a bit more money than sense, ironically), but it is less self-interested, making it clear it is from a new chapter in his work.
Some of the weight gathers in the latter half of the album, the quiet sleeper songs that will be successful from the listening power of fans but will not necessary gain the widespread fame that the collaborations have. "All My Heroes" builds in the same way that the lyrics do in their realization that Antonoff "will be something better yet," i.e. he is a success, and wins over our hearts. It's follow-up "Let's Get Married" then seems to embrace this positivity in arguably the best track on the entire album. It's impulsive, romantic, and apologetic, all the characteristics of a good love story. In these songs, Antonoff masters the balance of layering sentiment and strange sounds to elicit emotional reactions. They simply work.
"Gone Now" is a project full of big concepts — both in sounds and in actual presentation. It's not just everyone who decides to bring their childhood bedroom with them on tour. But the album gets away with some of this flashiness because it does not give off the impression that it is actually trying to be flashy. Instead, it is truly believable that Antonoff is trying to simulate the same feelings he has once experienced for his audience, to be able to convey grief and growing up for his fellow emo kids so they all know they're not alone — and also, maybe, that things get better.
"Gone Now" is out now on RCA. Bleachers will be on tour through September, starting today at Randall's Island in New York.
---
Rachel A.G. Gilman is a writer, a radio producer, and probably the girl wearing the Kinks shirt. Follow her on Twitter.