The dust has officially cleared on the election results, and America has had to swallow a bitter pill: Donald Trump is President-elect. Protestors converged at Union Square in New York City a few hours ago, organizing a protest that was intended to march all the way to Trump Tower on 5th Ave. In the face of what many are viewing as a national tragedy, the people have taken to the streets in support of the values that they feel have been threatened.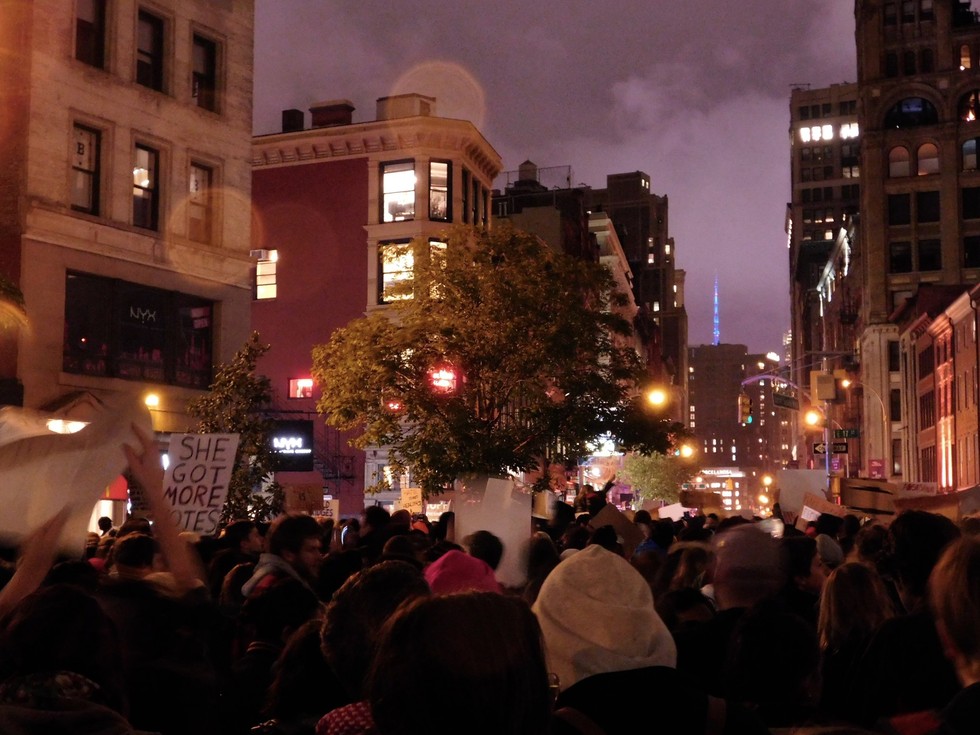 E.R. Pulgar, 2016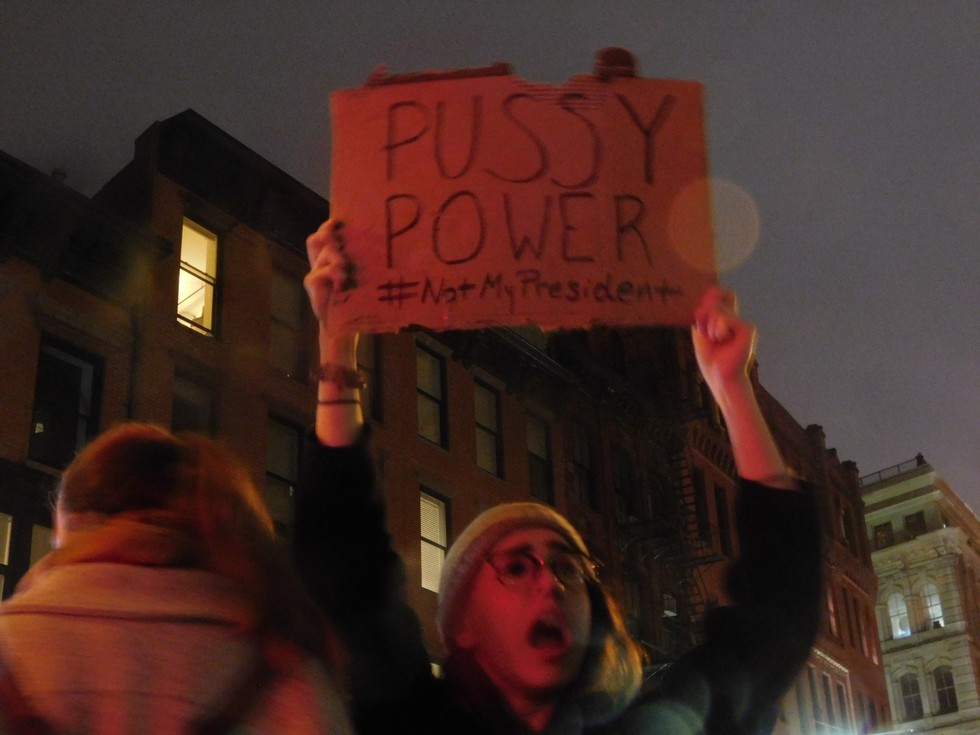 E.R. Pulgar, 2016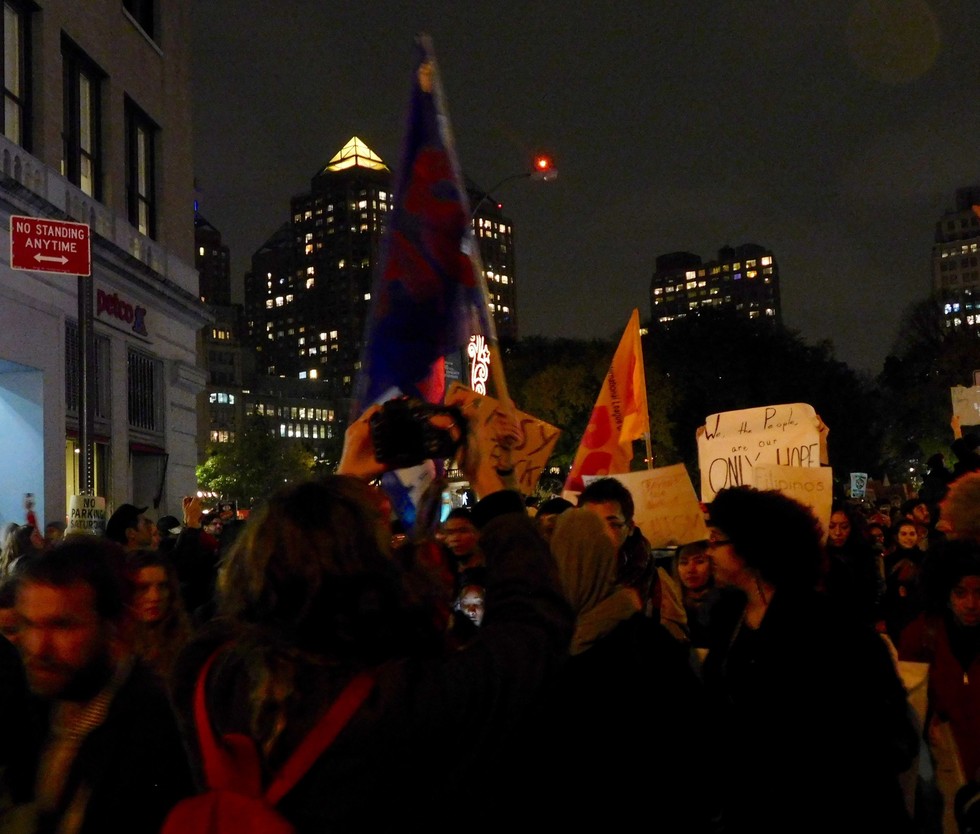 E.R. Pulgar, 2016
In the mist and the rain, people of every color, creed, and gender identity expressed their outrage at the results of the election. They held up signs emblazoned with protest logos, and the air was rife with anti-Trump chants:
"Pussy grabs back!"
"We're here, we're queer, we're fabulous, don't silence us!"
"He's not my president!"
"Hey-ho, f*cking Trump has got to go!"
Others chose to keep it simple, yelling "Fuck Trump," or very simply yelling.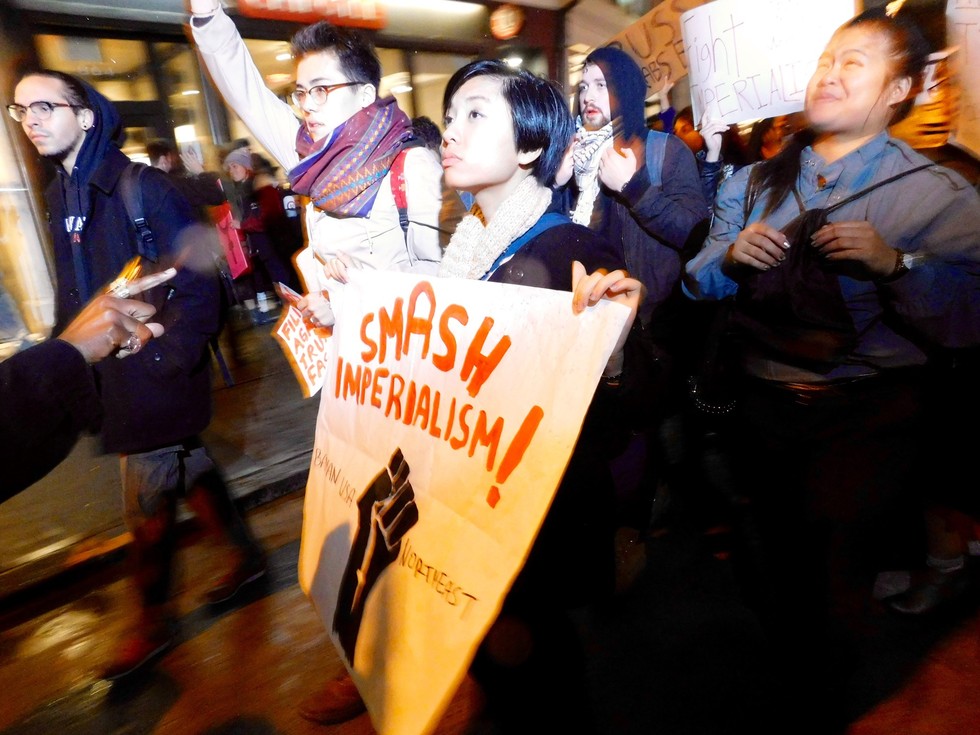 E.R. Pulgar, 2016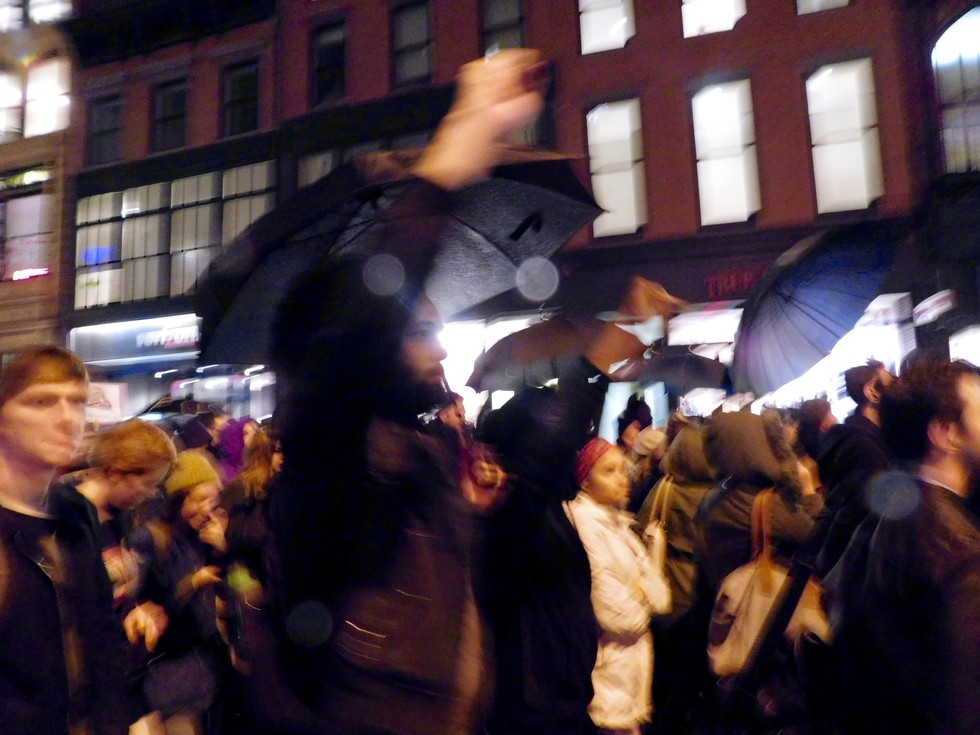 E.R. Pulgar, 2016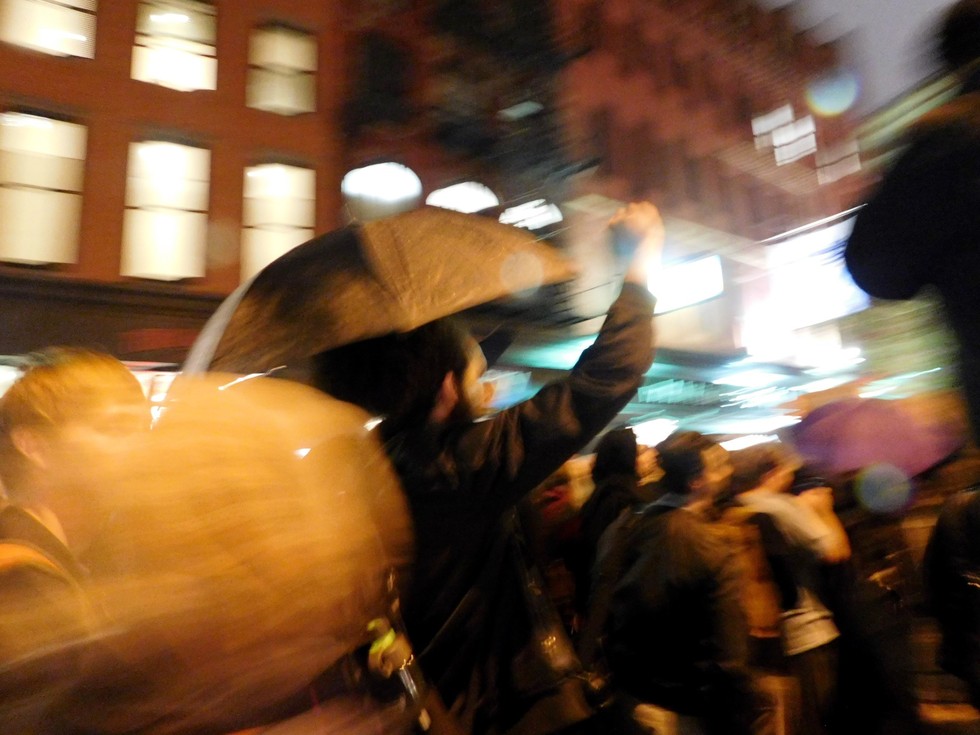 E.R. Pulgar, 2016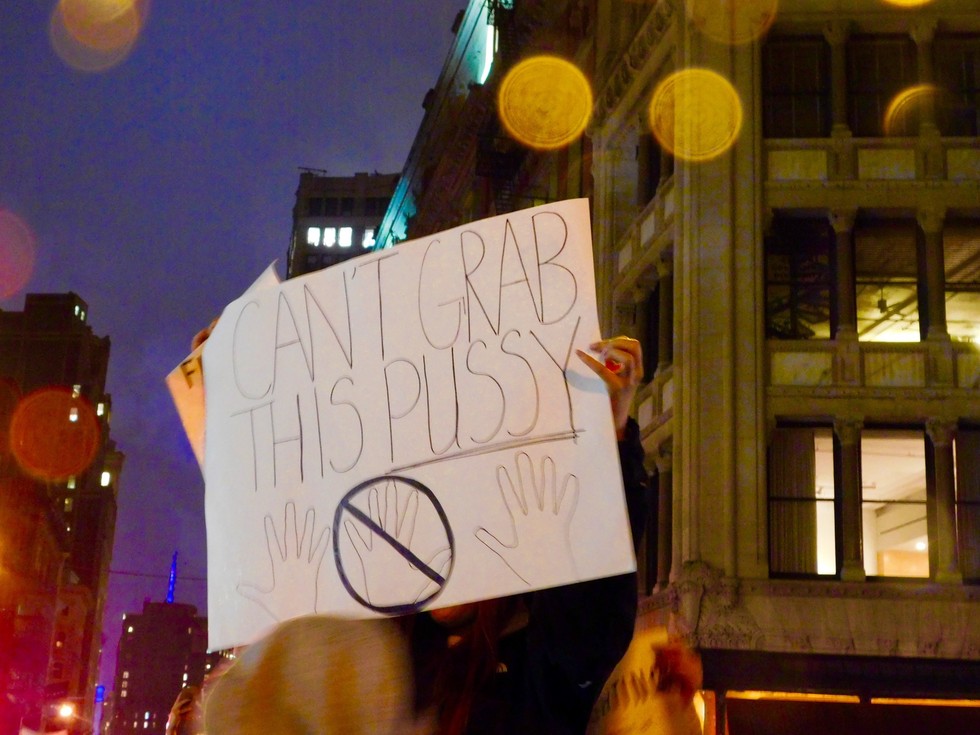 E.R. Pulgar, 2016
The march continued up Broadway, relentless and driven despite the weather. As the mob moved up Manhattan, families and other passerby continued to go about their business. Some New Yorkers chose to watch complacently from their balconies, sipping vodka tonics and calmly witnessing the chaos below. Others stood on the sidelines, watching, chain-smoking, waiting. Journalists and photographers plowed through the crowd, brandishing DSLRs and iPhones to record themselves and the protestors. The NYPD were a looming presence, restrained but vigilant.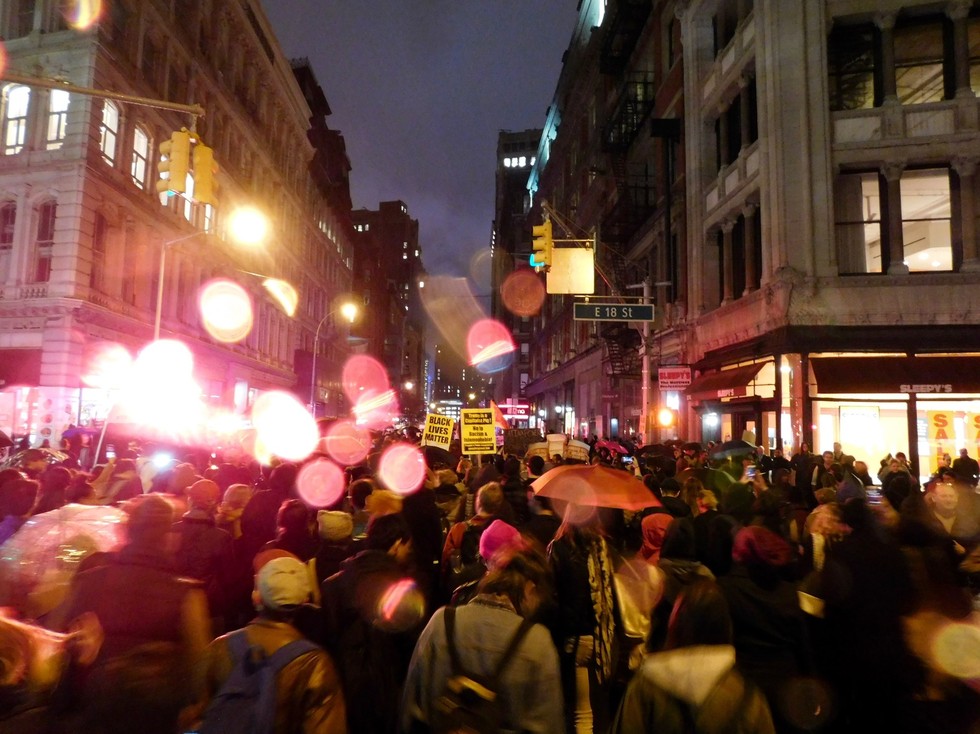 E.R. Pulgar, 2016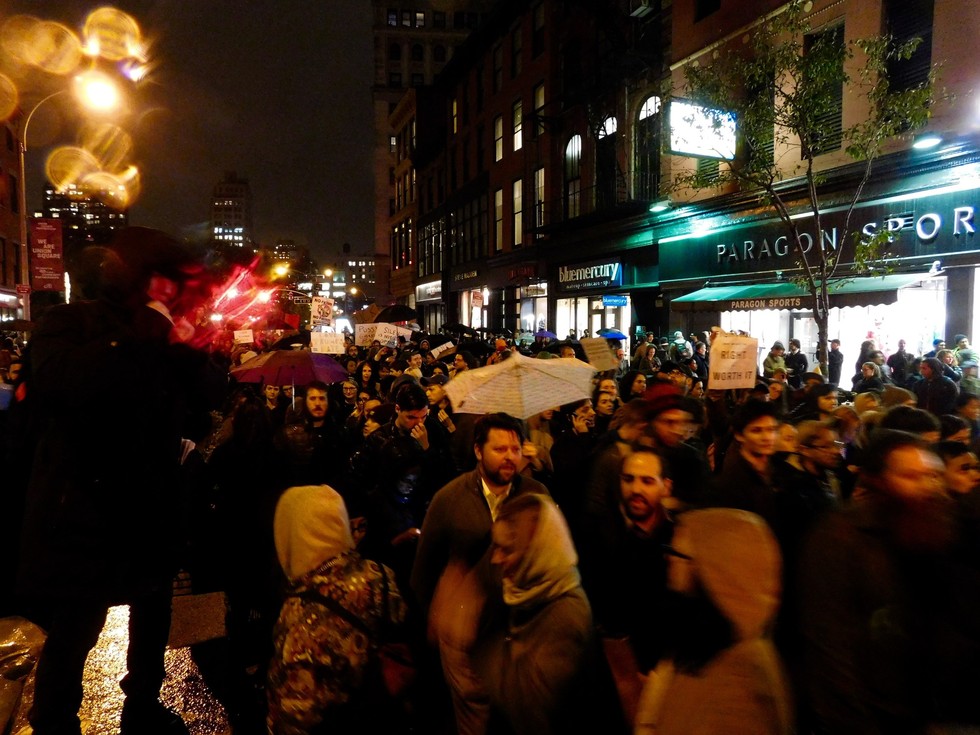 E.R. Pulgar, 2016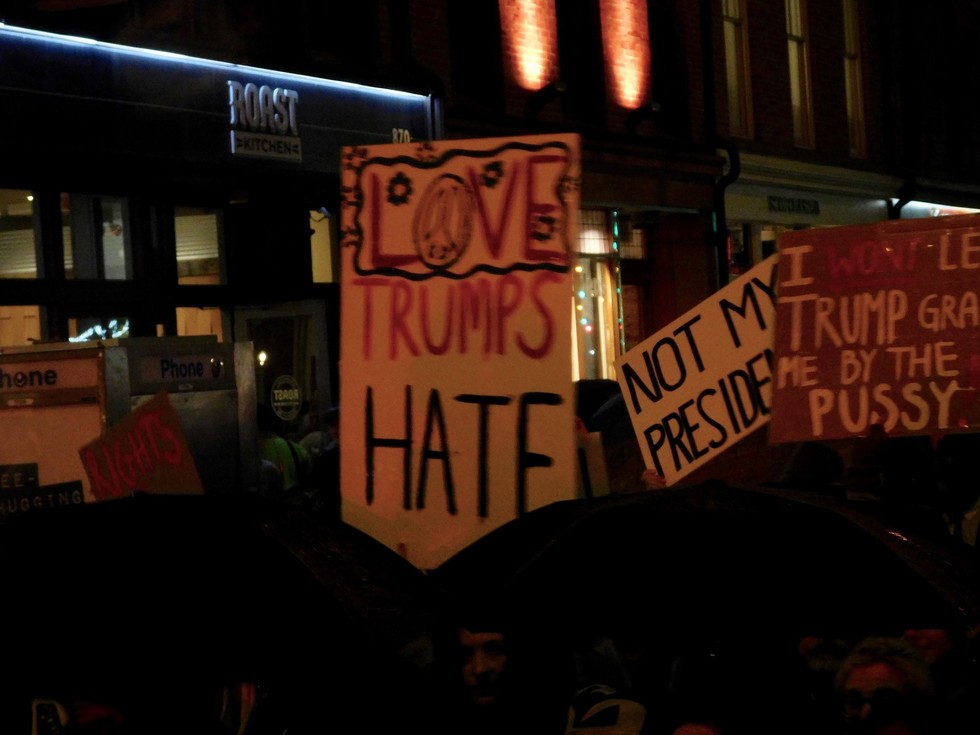 E.R. Pulgar, 2016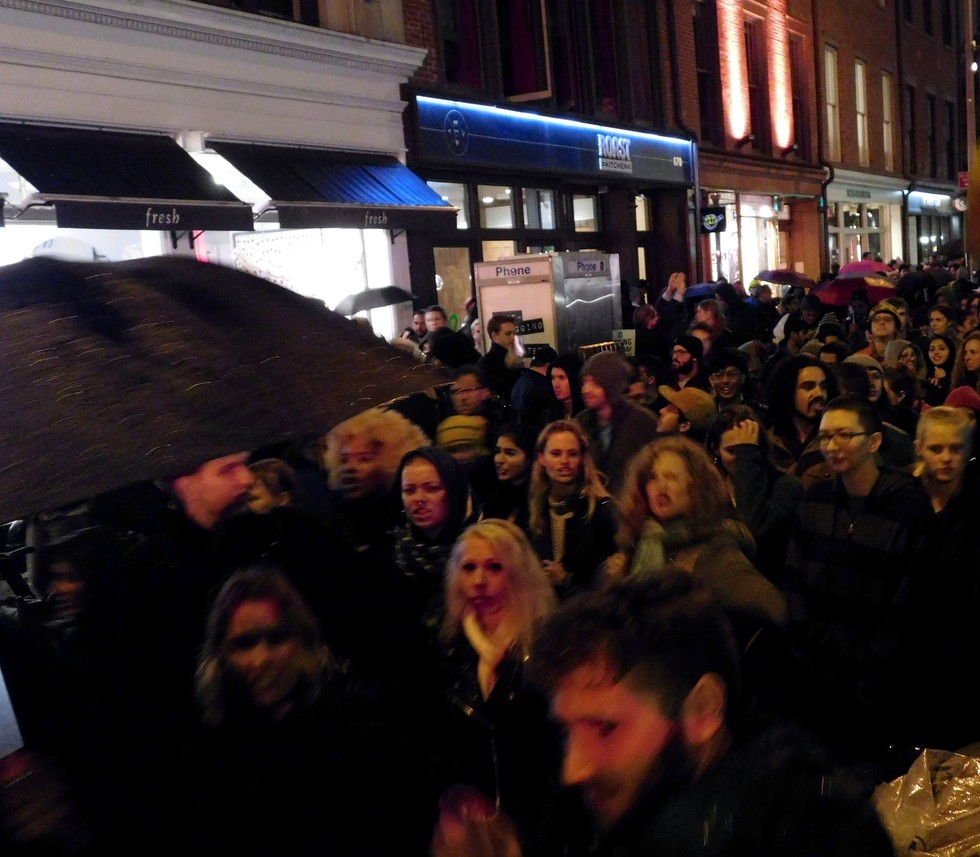 E.R. Pulgar, 2016
The police tried to block off the protestors as they began to zero in on Trump Tower. The crowd remained despite the barrier, caught up in the heat of the moment, and in the righteous fury of this historic election.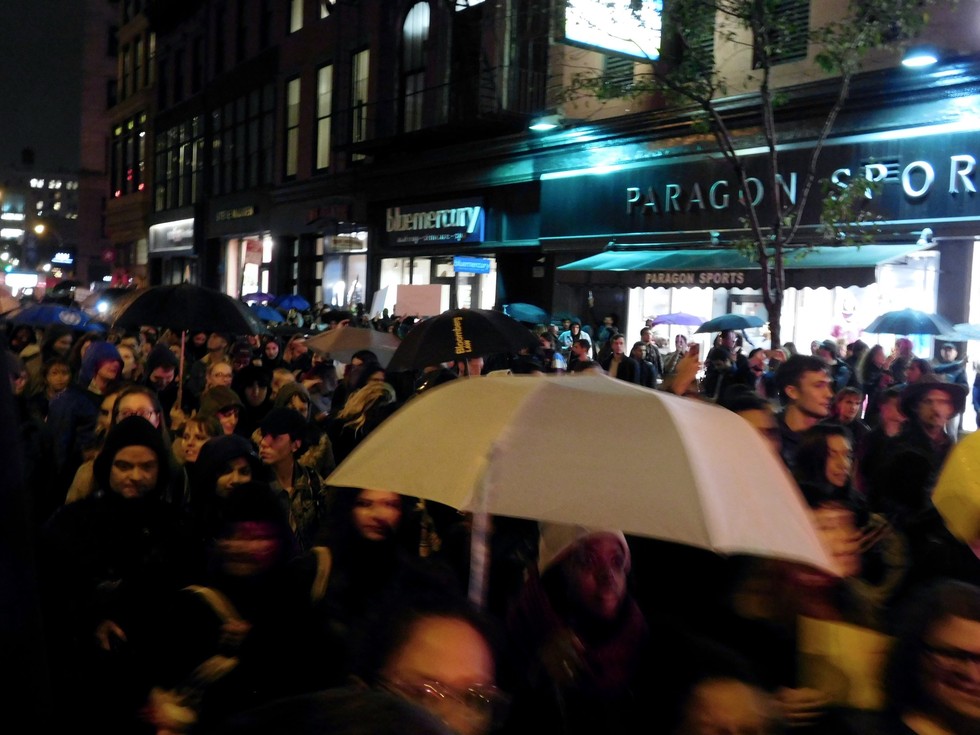 E.R. Pulgar, 2016
E.R. Pulgar, 2016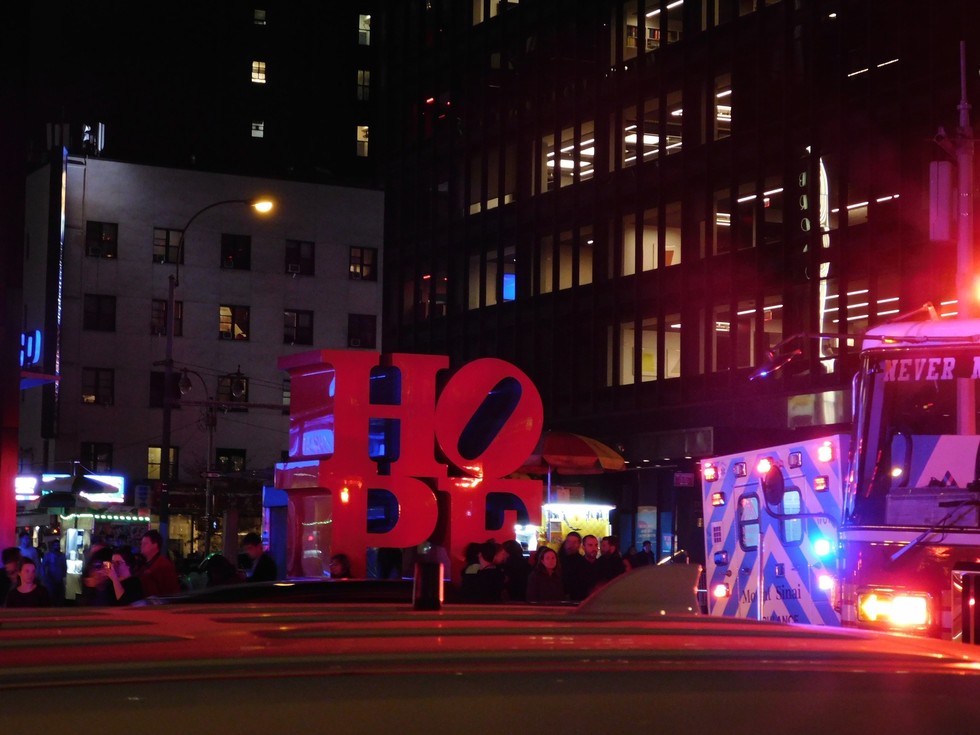 E.R. Pulgar, 2016
The streets vibrated with hope, life, and some kind of semblance of revolution. New York City is not down, and the opposition isn't either. Hillary Clinton gave her concession speech clothed in black and purple, bi-partisan colors for a funeral. The people have taken to the streets in the spirit of mourning, outrage, and solidarity with every marginalized person who has had their lives put in danger by the recently elected leader. In her concession speech, Clinton left her supporters with a message of strength, and her words have resonated.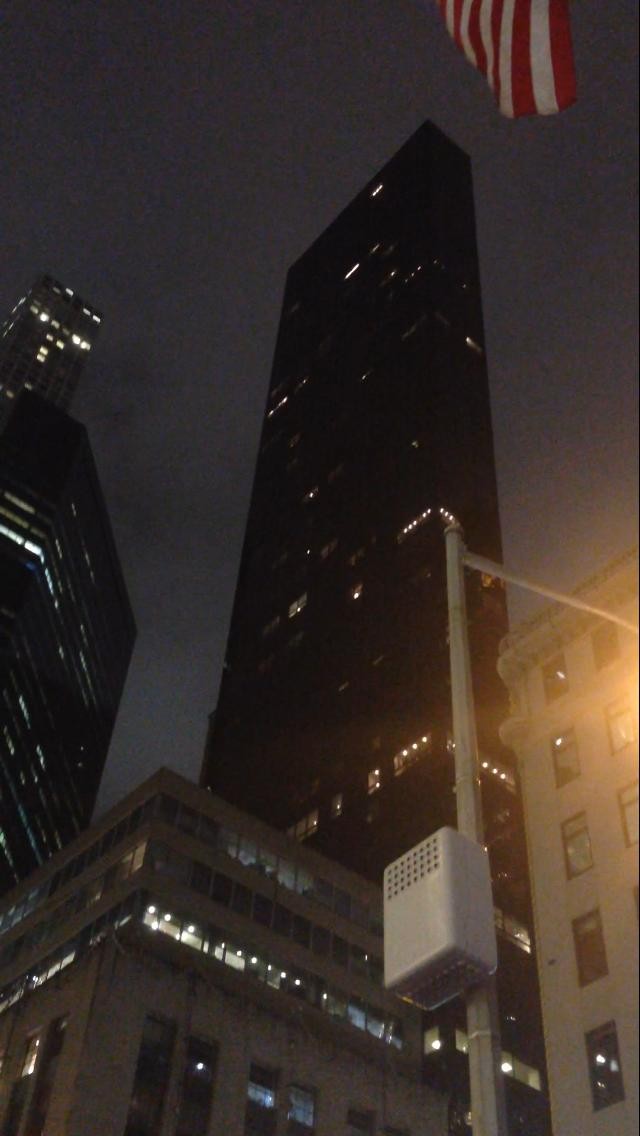 Nikos Koukas, 2016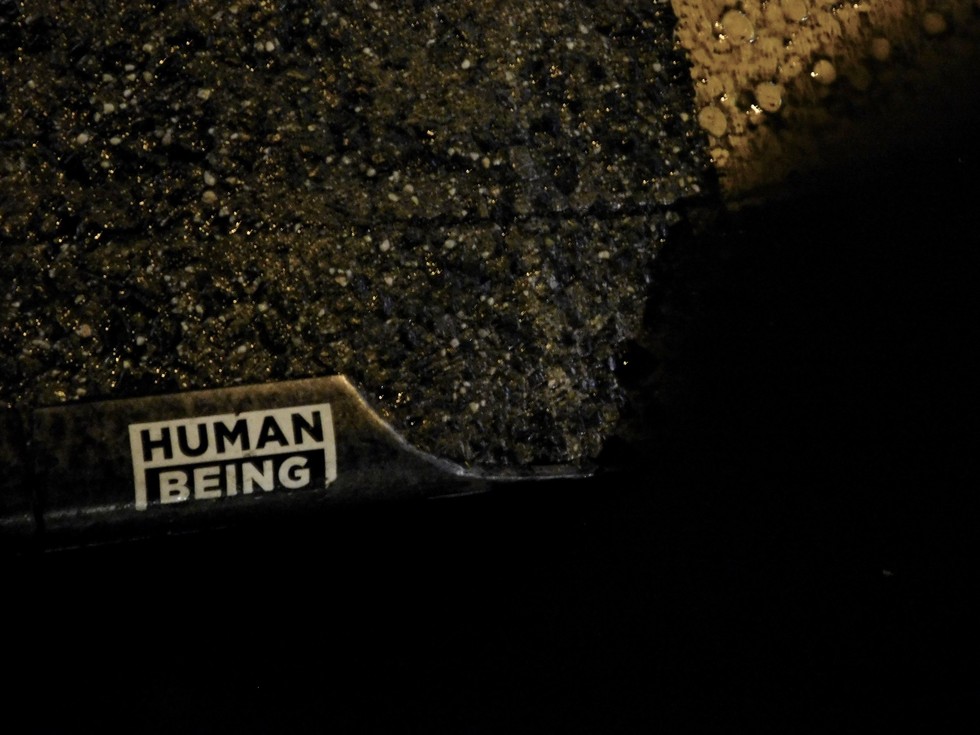 E.R. Pulgar, 2016
Whether this protest, and the several others planned throughout the week, falls on deaf ears is yet to be seen. As the crowd continued to move uptown, it's energy did not trail it. The city continued to move, a maelstrom of self-contained chaos, a controlled riot.
Even if this amounts to nothing, there is a kernel of hope yet in this darkness. One need only look for it.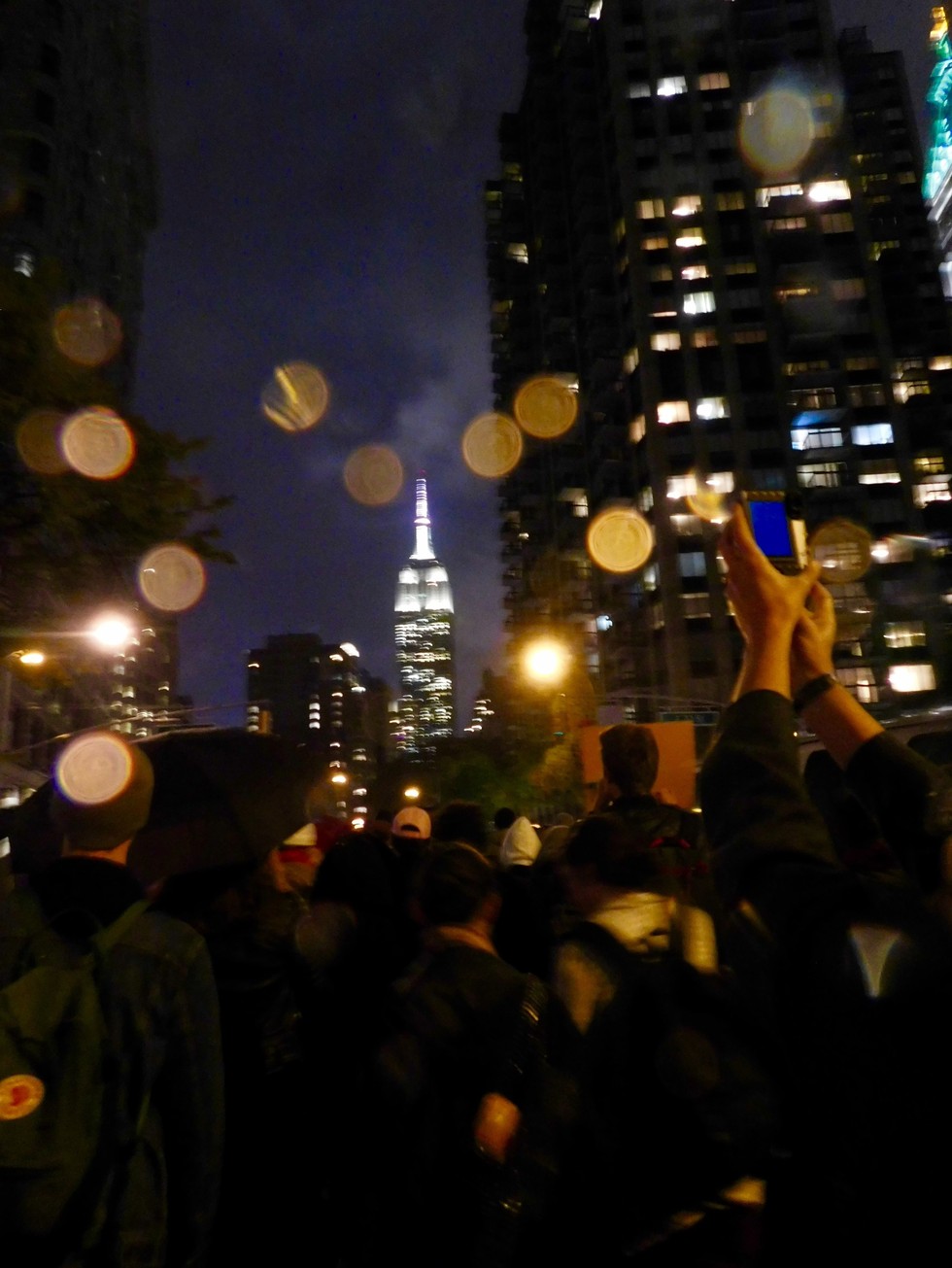 E.R. Pulgar, 2016