Out of the three bands in my iTunes library celebrating ruminant mammals, San Francisco's Deerhoof are both the oldest and, after some consideration, the most bass-thumping fun you find on the post-colligate circuit. Sorry, Bradford Cox. Slipping out of their year-long tour with the Red Hot Chili Peppers for two small shows at Gowanus' dank, chandelier-lit indie den, The Bell House, the four-piece playfully toyed with their own history like few bands well-past their twentieth anniversary are wont to do. "Every new record is our debut as whatever band we're pretending to be at that moment," the band's drummer, Greg Saunier, told DIY a few years back. A band known to theatrically flail themselves on the floor if the moment calls for it, Saunier's flexible identity seemed a fine enough principle to apply live. The band that Deerhoof were pretending to be this weekend was a year out of art school, still living in that apartment in the vicinity of campus. Splotches of paint on the floor and an incomplete sculpture centerpiece the place.
Shortly before the show, said splotches of paint could be seen on the pants of singer and occasional bassist Satomi Matsuzaki—who grew up in Tokyo and joined the band her first day in the United States after being told that some new band in the San Fran scene needed a vocalist. This was passion in the slacker age. When showtime struck last night, however, Matsuzaki had changed into a sort of shiny bag, complete with frills and outfitted into a one-piece. It was the color of the drapery in Blue Velvet, complimenting The Bell House's own Lynchian stage, heavy red curtains that feel repurposed from Twin Peak's Black Lodge. The penchant for flamboyant attire was shared by guitarist Ed Eodriguez, hair curled in fashion of axmen impresario Kurt Vile and twisting riffs with such dexterity that presence was reduced to a baby blue blur painted viciously against red backdrop. Behind him, Saunier's tight percussive punches kept the air static, contemplative, almost jazzy snares.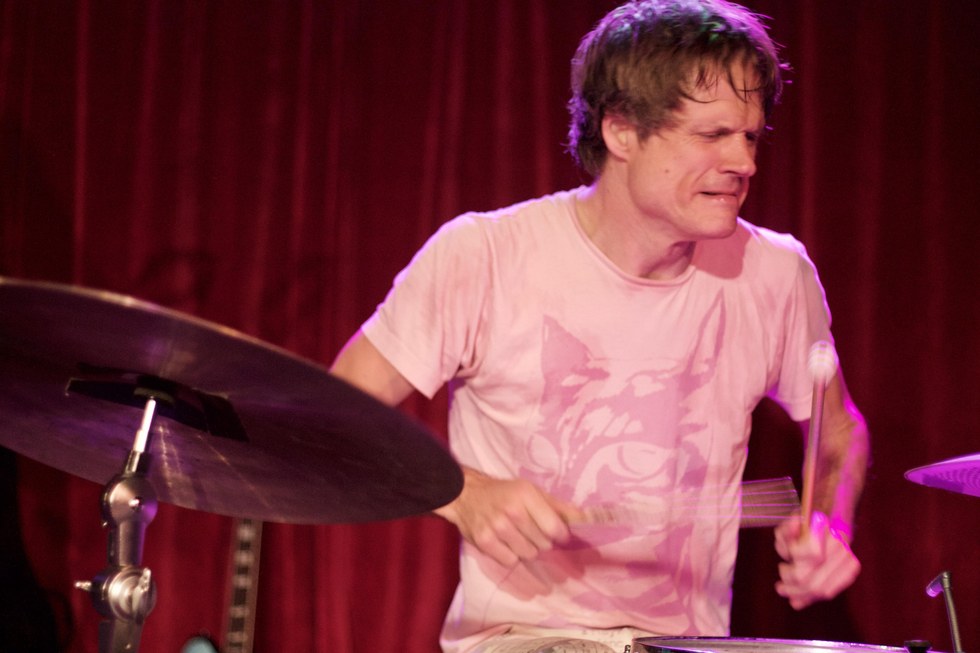 Deerhoof's Greg Saunier has been celebrated by the likes of Rolling Stone as a "trailblazing 21st-century avant-rock percussionist"(Andrew Karpan)
Deerhoof's thirteenth full-length came out last summer but any fidelity to their extensive recorded catalog remained winkingly limb. New material with such salty names like "Come Down Here And Say That" and "I Will Spite Survive" were twisted out of hands already gamely pulling from storied recorded material circa 2005, 1999. The longtime fans, a group that includes everyone from festival favorites Perfect Pussy to the CERN physicist who invited the band to perform a session in front of the world's largest and most powerful particle collider, would note that the band's sound has, of late, leaned toward the possibilities of greater accessibility. During the recording sessions for their 2014 effort, La Isla Bonita, Saunier wanted to make "the most slick record we could," with a title that, itself, referred to a True Blue-era Madonna hit. It was their second record on Polyvinyl, the simmeringly hip label responsible for breaking such trendy indie punk mainstays like Japandroids and Beach Slang.
But Deerhoof's success occurs outside of the loop of fashion or festivals or advancing from stages. They are a band whose very existence celebrates the insular language of the art project, projecting winks and nods in a language unconcerned for our understanding. It's a language you from time to time in more popular arenas, on my mind that evening was the new record from the New Zealand pop star known as Lorde, already being celebrated in online circles as a more satisfying entertainment then the offering of previous weekends, like Katy Perry's Witness or the digital re-release of Taylor Swift's discography. Lorde, who's live show has been called artsy in some circles, is not so divorced from the pure and bottled persistence performed by Matsuzaki & company, there are expressive blurps and electric fizzes in her music, from time to time, that cannot quite be explained, that perplex the pop experts. Deerhoof are a band whose work consist of those seconds and, as a collection, feel caught from the kinds of scenes celebrated in schools and of which books of intrigue are written about.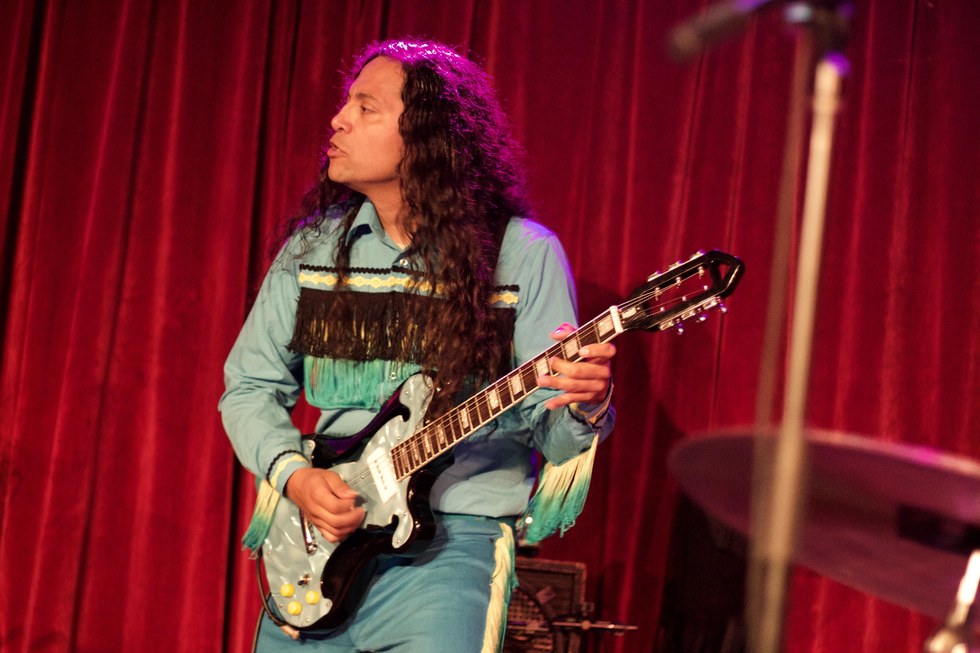 (Andrew Karpan)
You bask in this material, in the pronouncements yelled by Matsuzaki and small manifestos drummed out by Saunier. The guitar assault, occasionally delivers pop metal or punk fictions and dries them out of their cowboy irony, distilling them into two minute nuggets and, once successful, absconds the concept for something else. To call it avant-garde, as magazines are wont to do, is a disservice. The avant-garde connotes something performed by bearded jazzmen at the Stone in the Lower East Side. This, on the other hand, is fun.