Late Tuesday night, Kid Cudi put out an announcement through his Facebook page letting fans know that he will be checking into rehab because of depression and suicidal urges.
This announcement comes shortly after the release of two singles and the delay of his forthcoming album. The singles, which received mixed reviews, went live on Apple Music this weekend following an album delay announcement late last week.
Fans of Scott Mescudi are likely familiar with his history of mental illness. Suffering from drug addiction, depression, and anxiety, Kid Cudi has let the world into his pain through his emotionally charged music. His discography includes a wide array of music that ranges from party rap to spiritual rock and roll.
Cudi wrote that he felt ashamed to announce this withdrawal from public life and that he hoped to return before Complexcon later this year.
Check out the full text of the Facebook post below: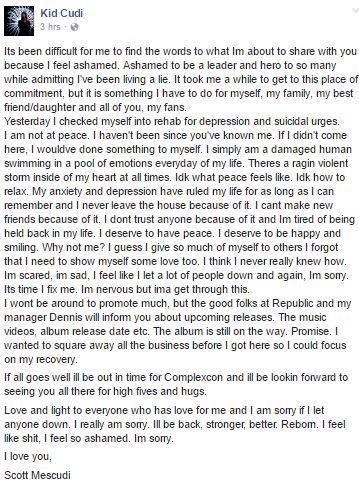 The good folks at Popdust and music fans everywhere wish you a speedy and lasting recovery, Scott.