"Yes, a world to rediscover in our sitcom-sized apartment we could never afford," Will sings in the musical number.
There are few comedies as trailblazing and timeless as Will & Grace. Just over 11 years ago, the prolific series starring Debra Messing as the neurotic interior designer Grace Adler, Eric McCormack as her gay best friend and upscale lawyer Will Truman, Sean Hayes as the flaming queen Jack McFarland to Megan Mullally's drunken, foul-mouthed socialite Karen Walker went off the air. It began airing episodes in 1998 and would go on to notch more than 200 total installments. It was one of the first network TV shows to feature gay characters.
Last winter, the quartet reunited for a one-off, politically-charged skit, and fans were left even more confused than they were before: would their favorite sitcom actually be among the nostalgic wave of reboots, revivals and proper reunions flooding primetime TV and Netflix? Well, confirmation came this week with the first full-length trailer for the revival series, set to return to NBC on Thursday nights this fall.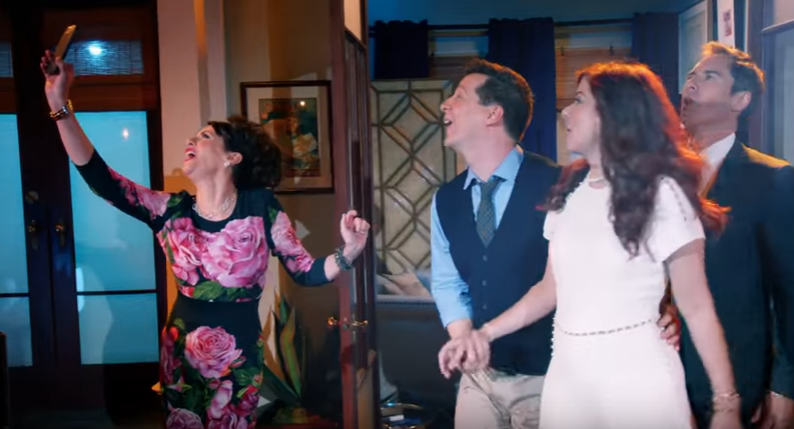 The clip opens on Will declaring his excitement about the return to executive producer Bob Greenblatt after their final meeting. "Again, Bob, so excited," Will declares. "I can't believe we're back, taking the old peacock for the another ride around the …" "Thing," Grace fills in his sentence. "What's the matter with you?" Will probes. Grace then chastises him, saying, "Riding the old peacock? You know you got the job, right? You left all your lipstick on this ass." She then does her adorable little thing of stealing Greenblatt's magazines and candy, not lost on Will, of course. "I wanted to make sure he knows we appreciate…are you stealing his candy and magazines?"
"It's not stealing," Grace replies. "They're free, like at the doctor's office."
"Look at this. NBC and doing the show again," Will revels in the series return. "I'm just so excited the four of us…"
"Yeah, I'm not doing it," Grace interrupts.
"What are you talking about?" inquires Will.
"I don't know. I don't really have the time. I'm so busy." "Busy? All you do is Instagram." "Not true. I tweet. I snap." "We just said yes. You can't back out now." "You said yes. I'm just not feeling it."
Will and Grace then enter an elevator and stop on the "Something Else"-emblazoned third floor. Will has a little surprise, and it's the show's set, as if it was never taken down. Grace is visibly moved by the inescapable, sweeping nostalgia, as Will removes dusty, white sheets from the furniture. They also discover Karen who has just taken a 10-year disco nap. "I guess I really needed to sleep," she quips. When Jack and his new man candy enter the apartment, he makes a clever joke about AirBNB, instead making it Airb-on-b (boy-on-boy, if that wasn't clear). Of course, a trip down memory lane wouldn't be complete without an impromptu musical number.
"Yes, a world to rediscover," Will croons, "in our sitcom-sized apartment we could never afford." The cast mates trade of humorous barbs about booze and "anonymous liaisons with tall guys and with shorties," Jack coos.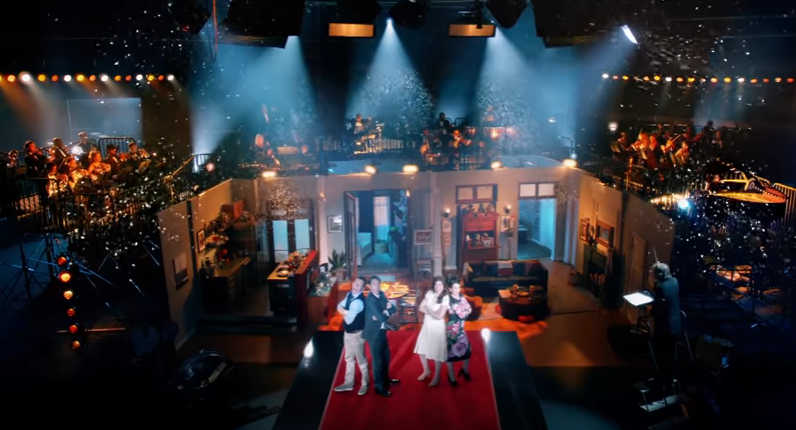 "Yes, everything's as if we never said goodbye," the four-some belt on the song's melodramatic climax with shimmering confetti showering down around them. Ah, the good ole days are here again!
The return of Will & Grace was ordered for a 12-episode season. If there are any qualms about the show's return, it'll be in good hands. Original series creators Max Mutchnick and David Kohan have hopped aboard as writers, showrunners and executive producers. Director James Burrows returns as director, as well as an executive producers.
On Monday, the cast performed the musical opening number as part of the upfront presentations. Check out a snippet of the live performance below: