This week, UK-based tropi-pop band Crystal Fighters have headlined two shows at the Music Hall of Williamsburg. Because it's New York, there's an expectation that the night always has to be better than the one before – and they delivered.
I was lucky enough to attend the first night and was immediately drawn in by their stage presence. They opened with an electrifying rendition of "Follow", proceeded by "LA Calling" and "In Your Arms." The crowd was more than receptive and eagerly responded to every single beat made by the band, something I quickly took notice of. I don't know what it is about the Music Hall of Williamsburg, but every show I've attended there as of late has crowds entirely made up not of casual listeners, but fans – the most important part of the industry, I'd say, and probably the ones who know how to have the most fun too.
The band performed the Feed Me cover "Love Is All I Got", displaying a variety of skills as long-term performers. Lead vocalist Sebastian Pringle had an impressive display of energy and stage presence, hyping up the crowd even more at every chance he got (which I didn't know was possible!)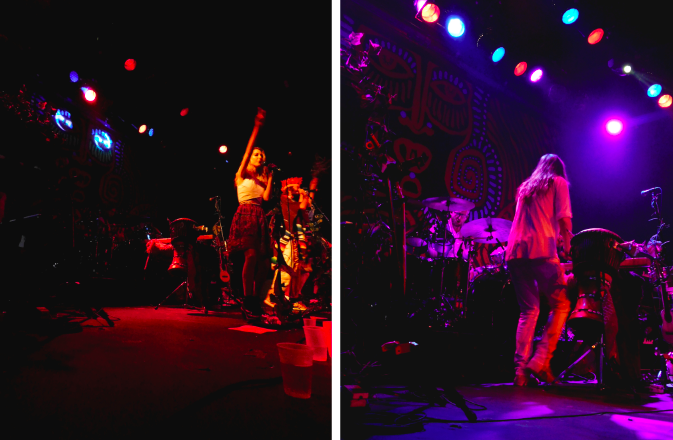 Crystal Fighters on stage at the Music Hall of Williamsburg, 4/6
A fun and diverse setlist followed, including gems like "Good Girls", "Jumping For Joy", and "You & I." The band seemed gracious and excited to be in New York City, stopping between tunes to thank the crowd for listening. An energizing encore followed with "Xtatic Truth" and "Plage", before they departed the stage, leaving us all in a daze.
While Crystal Fighters' sound definitely isn't for everyone, it's important to acknowledge the amount of effort and detail that goes into being an artist in today's world. Keyboards and mic stands adorned with plants, neon prints and eclectic lighting made the stage a whole new world to escape to for ninety minutes – and sometimes that's worth everything.

Crystal Fighters can be found via
Twitter and official website.
Check out their upcoming European tour dates below:
4/16 – PAASPOP 2017 – Schijndel, Netherlands

5/6 – Motor Circus 2017 – Baza, Spain
6/2 – Rock AM Ring & Rock IM Park – Nürburg, Germany
6/3 – Pinkpop Festival 2017 – Landgraaf, The Netherlands
6/15 – Festineuch 2017 – Neuchatel, Switzerland
7/1 – Rock Werchter 2017 – Werchter, Belgium
7/13 – Festival Internacional de Benicassim – Benicassim, Spain
7/21 – Secret Garden Party 2017 – Abbots Ripton, United Kingdom
7/22 – Hippodrome de Longchamp – Paris, France
7/24 – Blue Balls 2017 – Luzern, Switzerland
8/4 – Sudoeste Festival – Zamburjeira, Portugal
8/12 – Sziget Festival – Budapest, Hungary
10/28 – Alexandra Palace – London, United Kingdom